Mind memory
My research has been centered mostly on how the mind forms memory . And how special individuals sometimes break those rules . Such as the autistic or Idiot savants who develop super human skills . mirlen101 Feb 26
A rat's head fits in the circular opening of this device, which is surrounded by miniaturized detectors and electronics (photo credit: Brookhaven National Laboratory) A tiny wearable positron emission tomography (PET) scanner has been used to track chemical activity in the brains of unrestrained animals while an animal behaves naturally; it could be modified for people.
Wearable scanner opens new frontier in neuroscience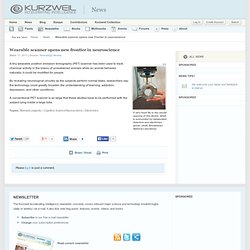 NEW YORK — There is a place for magic in science. Five years ago, on a trip to Las Vegas, neuroscientists Stephen Macknik and Susana Martinez-Conde realized that a partnership was in order with a profession that has an older and more intuitive understanding of how the human brain works. Magicians, it seems, have an advantage over neuroscientists. "Scientists have only studied cognitive illusions for a few decades.
Overview[edit]