Mind Mapping & Diagrams
De -35000 à 1435. Teresafisher. Boosting Your Creativity. Boosting Your Creativity. Personality types. Free Mind Map Examples - Great ideas on different Mind Mapping Examples. Memory techniques. Remue-méninges : les cartes mentales. Mind Maps at Work. Using Mind Maps at work will not only transform the way you work, but also introduce a fun element into your daily grind.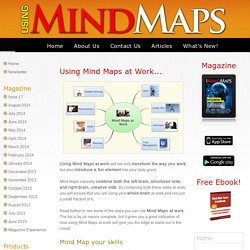 Mind Maps naturally combine both the left-brain, structured side, and right-brain, creative side. By combining both these sides at work, you will ensure that you are using your whole brain at work and not just a small fraction of it. Read further to see some of the ways you can use Mind Maps at work. The list is by no means complete, but it gives you a good indication of how using Mind Maps at work will give you the edge to stand out in the crowd. Interactive Learning Management Program. How much time have you spent learning how to learn?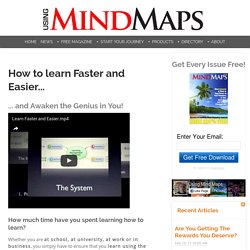 Whether you are at school, at university, at work or in business, you simply have to ensure that you learn using the most up to date, proven methods. You must ensure that you use your whole brain, not only when studying, but in all your tasks. Our instantly downloadable Learning Management Program will allow you to do exactly that. It is a comprehensive MindMapTutor, using Mind Maps and text that is easy to understand and simple to apply, giving you fast results. Mind Mapping RESOURCES. Using Mind Maps. Mind Map Memory Maps.
Using Mind Map Memory Maps to improve your memory can take your memory to the levels only achieved by geniuses until now.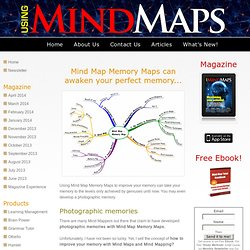 You may even develop a photographic memory. Photographic memories There are many Mind Mappers out there that claim to have developed photographic memories with Mind Map Memory Maps. Unfortunately, I have not been so lucky. Blog | Mind Map Tutor - Using Mind Maps to Learn Faster and Easier. . . . . . : : : : : Aplicación para desarrollar y mejorar la velocidad lectora : : : : : . . . . Create timelines, share them on the web. Free Mind Map Examples - Great ideas on different Mind Mapping Examples. Exploratree - Exploratree by FutureLab. C-Link - Concept Linkage In Knowledge Repositories.
CmapTools - Home Page Cmap.html. XMind - Mind Mapping and Storming. Mind Mapping. Mind Tools - Management Training, Leadership Training and Career Training. Instaviz: Diagram Sketching, Mindmap, Flowchart, Workflow, Whiteboard App for your iPhone, iPad or iPod Touch.
Navigator. The Zooming Presentation Editor. Timeline. Lineup for witnesses Oswald taken to second lineup Deputy sheriff identifies Oswald Bullet 399 handed to SS Chief Rowley Air Force One arrives at Washington DC Oswald interrogated 2nd time.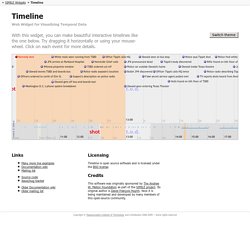 Timeglider. Learning Tools - Timeline tool. Create timelines, share them on the web. Cacoo - Create diagrams online Real time collaboration. Free Online Idea Management and Collaboration Service | Wridea.com. Online Diagramming and Flowcharting Tool. Popplet | Collect, curate and share your ideas, inspirations, and projects! Vision Mapper by Futurelab. Exploratree - Exploratree by FutureLab. Debategraph. Collaborative Online Diagram Software - Try it Free.
UK Book Publishers. Book Publishers. TimeRime.com - Homepage. Free SlideShow Maker. Visual JavaScript SlideShow. BEEDOCS. History of Comstar. Timeline. Dipity - Find, Create, and Embed Interactive Timelines. Web Directory. Explore and Create Free Timelines. Create timelines, share them on the web. Timeglider: Web-based Timeline Software. Beautiful web-based timeline software. Diagrammr. Graphic Organizers.
Creaza Video. Online Diagram Software and Flowchart Software - Gliffy. Graphic Organizers. Mind Mapping software for visual thinking | Seavus DropMind™ Recipes4Success. Thoughtboxes. Text 2 Mind Map – The text-to-mind-map converter. Crystal Mapping Video Tutorial - Mark Wogan. Prezi - The Zooming Presentation Editor. Mind Mapping and Brainstorming Software - Mindomo. Dia. Welcome to Dia's new homepage.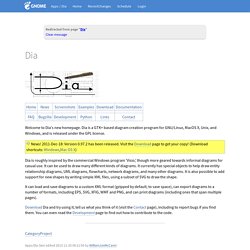 Dia is a GTK+ based diagram creation program for GNU/Linux, MacOS X, Unix, and Windows, and is released under the GPL license. Dia is roughly inspired by the commercial Windows program 'Visio,' though more geared towards informal diagrams for casual use. It can be used to draw many different kinds of diagrams. It currently has special objects to help draw entity relationship diagrams, UML diagrams, flowcharts, network diagrams, and many other diagrams. It is also possible to add support for new shapes by writing simple XML files, using a subset of SVG to draw the shape. Diagramly - Draw Diagrams Online. Lovely Charts | Diagram software. Google Docs - Online documents, spreadsheets, presentations, surveys, file storage and more.
Spicynodes : Home. Online Mind Mapping and Brainstorming - MindMeister. Online Mind Mapping and Brainstorming app - SpiderScribe. Mind42.com - Collaborative mind mapping in your browser.
---
lisama Oct 17 2011

Wow Daniel, looking forward to using some of these tools. Lisa.

monica.mirza.researchdoc Oct 4 2011

Sorry, I mistook the pearl when asking you for team work on this one... Nevertheless, thanks so much for sharing :)

sadevgroup Sep 21 2011

Thanks for sharing this great job !

kathologist Sep 19 2011

This is the way to go for many of us who's heads are filled with trivia, not details. We need to be able to use tools that help us POINT others to the info they need. As a Law Librarian, this is especially critical for pro se patrons

tdanford Sep 14 2011

Outstanding collection. Thanks for sharing your work on this.

gingertail Sep 14 2011

An amazing collection of Pearls on Mind Mapping! Thank you, Daniel.
---