U.S. / Yemen relations
"We do not have a military role in this conflict." Really? Phillip Crowley, Assistant Secretary of State.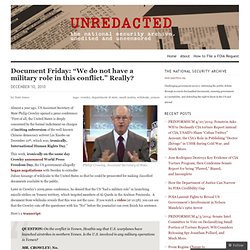 Almost a year ago, US Assistant Secretary of State Philip Crowley opened a press conference: "First of all, the United States is deeply concerned by the formal indictment on charges of inciting subversion of the well-known Chinese democracy activist Liu Xiaobo on December 10th, which was, ironically, International Human Rights Day." This week, ironically on the same day Crowley announced World Press Freedom Day, the US government allegedly began negotiations with Sweden to extradite Julian Assange of wikileaks to the United States so that he could be prosecuted for making classified documents available to the public. Later in Crowley's 2009 press conference, he denied that the US "had a military role" in launching missile strikes on Yemeni territory, which targeted members of Al-Qaeda in the Arabian Peninsula. A document from wikileaks reveals that this was not the case. Why Is President Obama Keeping a Journalist in Prison in Yemen?
Abdulelah Haider Shaye.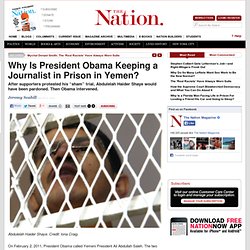 Credit: Iona Craig. On February 2, 2011, President Obama called Yemeni President Ali Abdullah Saleh. The two discussed counterterrorism cooperation and the battle against Al Qaeda in the Arabian Peninsula. At the end of the call, according to a White House read-out, Obama "expressed concern" over the release of a man named Abdulelah Haider Shaye, whom Obama said "had been sentenced to five years in prison for his association with AQAP." Jeremy Scahill: Why is President Obama Keeping Yemeni Journalist Abdulelah Haider Shaye in Prison?
This is a rush transcript.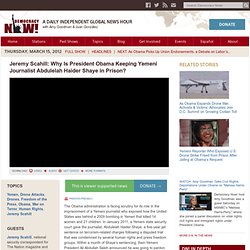 Copy may not be in its final form. JUAN GONZALEZ: We're going to turn now to Yemen. Jeremy Scahill: Well Known Journalist Rotting In Jail Because Obama Personally Requested It. Democracy Now on the imprisoned Yemeni journalist. It's very rare that I write primarily for the purpose of posting a video, but I'm going to make an exception today for this truly compelling, must-watch Democracy Now segment on the Jeremy Scahill article about imprisoned Yemeni journalist Abdulelah Haider Shaye which I wrote about yesterday.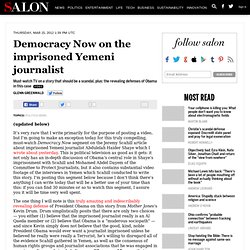 This is political television as good as it gets: it not only has an in-depth discussion of Obama's central role in Shaye's imprisonment with Scahill and Mohamed Abdel Dayem of the Committee to Protect Journalists, but it also contains substantial video footage of the interviews in Yemen which Scahill conducted to write this story. I'm posting this segment below because I don't think there's anything I can write today that will be a better use of your time than this: if you can find 30 minutes or so to watch this segment, I assure you it will be time very well spent.
---