Tunisia
Video: Tunisian president has 'nightmares' of yet another revolution
The Disintegrating Fabric of Tunisian Politics: The Niqab Ban and Tunisian Flag Desecration at Manouba University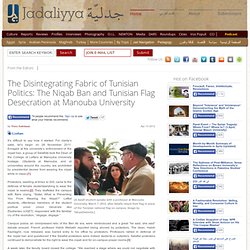 It's difficult to say how it started. For clarity's sake, let's begin on 28 November 2011. Enraged at the university's enforcement of the niqab ban, a group of Salafists took the Dean of the College of Letters at Manouba University hostage. (Students at Manouba, and at universities around the country, are prohibited by presidential decree from wearing the niqab while in class).[1]
Tunisia: A revolutionary model - Empire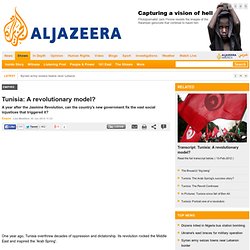 One year ago, Tunisia overthrew decades of oppression and dictatorship. Its revolution rocked the Middle East and inspired the 'Arab Spring'. Now, Tunisia has adopted an interim constitution, held free and fair elections, and is becoming a modern democratic state. But does the recent electoral success of the Islamists herald a return to narrow, sectarian rule or consensual leadership?
Tunisia
Jadaliyya - Tunisia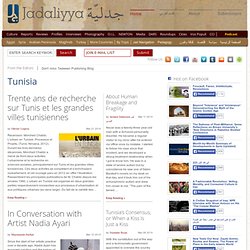 Tunisia: A New Prime Minister for Old Politics? The weeks-long negotiations over the appointment of a new Prime Minister who will be charged with forming a transitional government that will guide Tunisia to the next election has finally produced a result. On Sunday, the political forces and the so-called quartet lead by the influential Tunisian labor union, Union Générale Tunisienne du Travail (UGTT) as a mediating force between the parties, has announced the name of the person in charge of forming a new government. Mehdi Jomaa has been named Prime Minister. Jomaa is currently Minister of Industry in the government formed by the "Troika" –Ennahda, Ettakatol, and the Congress for the Republic—and is ... Keep Reading »
Tunisia's Student Salafis - By Monica Marks
Giggling over a communal pot of couscous, the girls swap stories and take turns pushing each other across the room on wheely chairs. Douha Rihi, 20, a German language major, wants to study abroad in Berlin. Sana Brahim, 23, is pursuing a master's degree in Microbiology. They don't look like the kind of young women you'd expect to find at the center of a major ideological controversy, but here they are -- all ten of them -- perched on the second level of the university administration building, fighting for their right to wear the full Muslim face veil, called niqab, inside classrooms and during exams. Along with a group of scraggly-bearded young Salafi men, these girls have been occupying the University of Manouba College of Arts and Humanities administration building since November 28 of last year. Their protest has resulted in the continued closure of one of Tunisia's largest campuses since December 6 and has kept an estimated 13,000 students from attending their classes.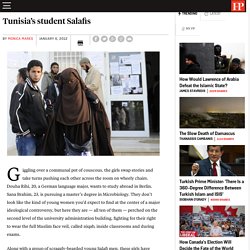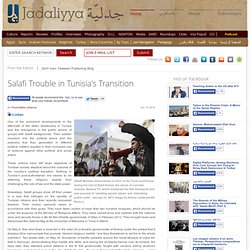 One of the prominent developments in the aftermath of the fallen dictatorship in Tunisia was the resurgence in the public sphere of groups with Salafi backgrounds. Their sudden incursion into the political arena and the polemics that they generated in different political matters resulted in their increased use of violence against other political and social actors. These actions have left large segments of Tunisian society skeptical about the outcome of the country's political transition. Nothing in Tunisia's post-authoritarian era seems to be deterring these religious zealots from challenging the rule of law and the state power. Nowadays, Salafi groups show off their power in a way that infringes on the sanctity of Tunisian citizens and their recently recovered freedom. Their modus operandi varies in accordance with their goals.
Salafi Trouble in Tunisia's Transition
Tunisia and the New Arab Media Space
Tunisia's election outcome gives 41% to the Muslim fundamentalist party Al-Nahda. One of the other two winners is the Rally for the Republic– of long-time political exile Moncef al-Marzouqi. Then the third… Tunisia's election outcome gives 41% to the Muslim fundamentalist party Al-Nahda. One of the other two winners is the Rally for the Republic– of long-time political exile Moncef al-Marzouqi.
Political Pluralism breaks out in Tunisia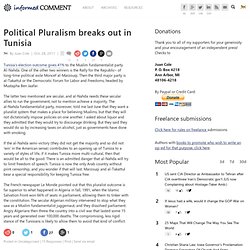 Now that the votes have been tallied and the victors of Tunisia's 23 October elections have been announced, the country's Constituent Assembly is finally beginning to take shape. With the blue ink still fading from Tunisian voters' index fingers, all eyes are fixed on the composition of Tunisia's first independent governing body, and speculation is rife – especially since the moderate Islamist Ennahda Party has secured slightly more than forty percent of the Assembly's seats. After decades of official secularism imposed by Tunisia's first president Habib Bourguiba, understandably, the election of a clearly Islamist party has raised the alarm of national and international audiences. But the party thus far has taken appropriate steps to assuage these anxieties, and it appears that if Ennahda puts its words into action, such fears are for the moment unfounded.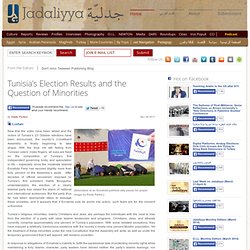 Tunisia's Election Results and the Question of Minorities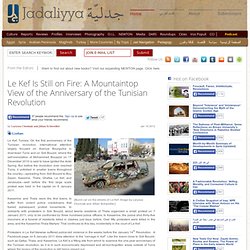 Le Kef Is Still on Fire: A Mountaintop View of the Anniversary of the Tunisian Revolution
Le Kef, Tunisia: On the first anniversary of the Tunisian revolution, international attention largely focused on Avenue Bourguiba in downtown Tunis and on Sidi Bouzid, where the self-immolation of Mohammed Bouazizi on 17 December 2010 is said to have ignited the Arab Spring. But before the revolution ever reached Tunis, it unfolded in smaller towns throughout the country—spreading from Sidi Bouzid to Bou Zayen, Kassrine, Thala, Ghafsa, Le Kef, and Jendouba—well before the first large scale protest was held in the capital on 8 January 2011. Kasserine and Thala were the first towns to suffer from violent police crackdowns that fueled subsequent protest movements. In solidarity with protesters in Sidi Bouzid, about twenty residents of Thala organized a small protest on 7 January 2011, only to be confronted by three hundreed police officers.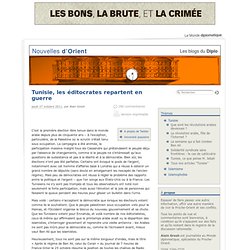 C'est la première élection libre tenue dans le monde arabe depuis plus de cinquante ans – à l'exception, particulière, de la Palestine où le scrutin s'était tenu sous occupation. La campagne a été animée, la participation massive malgré tous les Cassandre qui prétendaient le peuple déçu par l'absence de changements, comme si le peuple ne s'intéressait qu'aux questions de subsistance et pas à la liberté et à la démocratie. Bien sûr, les élections n'ont pas été parfaites. Certains ont évoqué le poids de l'argent, notamment avec cet homme d'affaires basé à Londres qui a réussi à obtenir un grand nombre de députés (sans doute en amalgamant les rescapés de l'ancien régime). Mais peu de démocraties ont réussi à régler le problème des rapports entre la politique et l'argent – que l'on songe aux Etats-Unis ou à la France.
Tunisie, les éditocrates repartent en guerre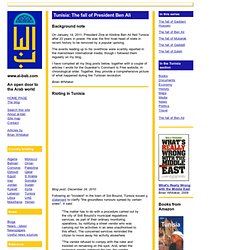 Background note On January 14, 2011, President Zine el Abidine Ben Ali fled Tunisia after 23 years in power. He was the first Arab head of state in recent history to be removed by a popular uprising. The events leading up to his overthrow were scantily reported in the mainstream international media, though I followed them regularly on my blog. I have compiled all my blog posts below, together with a couple of articles I wrote for the Guardian's Comment Is Free website, in chronological order.
Tunisia: The fall of President Ben Ali