Bahrain
_BahrainReport_web-FINAL
<a href="//ad.doubleclick.net/jump/teg.tdqk/djek/a;subs=n;wsub=n;sdn=n;!c=21564604;dcopt=ist;pos=ldr_top;sz=728x90,970x90,970x250;tile=1;ord=436743460?" target="_blank"><img src="//ad.doubleclick.net/ad/teg.tdqk/djek/a;subs=n;wsub=n;sdn=n;!
Bahrain: How the police recruit radicals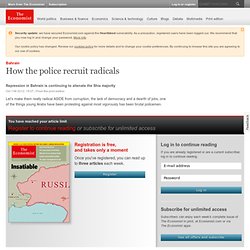 For a recent publication on Bahrain, I was forced to go back and forth with an editor over the question of whether the February 14th uprising should be introduced in the present or past tense.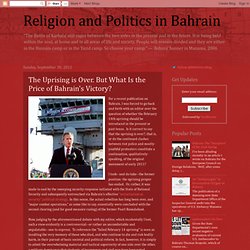 Religion and Politics in Bahrain: The Uprising is Over. But What Is the Price of Bahrain's Victory?
Bahrain's Triangle of Conflict - By Reza H. Akbari and Jason Stern
The common media account of the crisis in Bahrain weaves a compelling narrative of a Shiite-majority people struggling to achieve their inalienable rights against a Sunni-dominant government. Formula One: why we're watching Bahrain for all the wrong reasons
There have been some people willing to forego the hyperbole. 'It's a car race', said F1 driver Mark Webber: 'There are a hell of a lot of people in the world who don't have a clue there is a grand prix in Bahrain next weekend so let's not get too wrapped up in our own bubble about how important it is.'
The imperial narcissism of the F1 boycotters | Tim Black
Conservative figures within the Bahraini royal family are redoubling their efforts to subdue the opposition.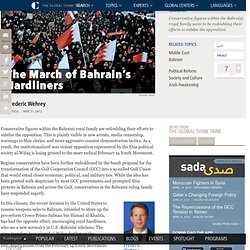 The March of Bahrain's Hardliners
Bahrain in the "Arab Spring"
A Family Under Siege: The Khawajas in Bahrain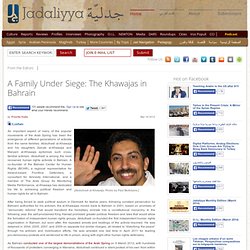 An important aspect of many of the popular movements of the Arab Spring has been the emergence of different generations of activists from the same families. Abdulhadi al-Khawaja and his daughters Zainab al-Khawaja and Maryam al-Khawaja epitomize such cross-familial activism. Abdulhadi is among the most renowned human rights activists in Bahrain. A co-founder of the Bahrain Center for Human Rights (BCHR), a regional representative for Ireland-based Frontline Defenders, a consultant for Amnesty International, and a member of The Arab Group for Monitoring Media Performance, al-Khawaja has dedicated his life to achieving political freedom and human rights for all in Bahrain. After being forced to seek political asylum in Denmark for twelve years, following constant persecution by Bahraini authorities for his activism, the al-Khawajas moved back to Bahrain in 2001, based on promises of "democratic reforms" that would transform the hereditary emirate into a constitutional monarchy.
Bahrain's Sunni Awakening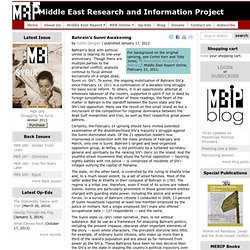 For background on the original uprising, see Cortni Kerr and Toby Jones, " A Revolution Paused in Bahrain ," Middle East Report Online , February 23, 2011. Bahrain's bout with political unrest is nearing its one-year anniversary. Though there are multiple parties to the protracted conflict, analysts continue to focus almost exclusively on a single dyad, Sunni vs.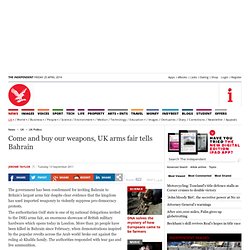 The authoritarian Gulf state is one of 65 national delegations invited to the DSEi arms fair, an enormous showcase of British military hardware which opens today in London. More than 30 people have been killed in Bahrain since February, when demonstrations inspired by the popular revolts across the Arab world broke out against the ruling al-Khalifa family. The authorities responded with tear gas and live ammunition. Saudi Arabia, a firm ally of the al-Khalifa dynasty, also sent troops to suppress the protests, some entering the country in Tactica armoured vehicles built by BAE Systems. It emerged last year that the Department for Business approved the sale to Bahrain of crowd control weapons including shotguns, teargas, stun grenades and rubber bullets.
Come and buy our weapons, UK arms fair tells Bahrain - UK Politics, UK
The inside track: how lobbyists have helped launder Bahrain's reputation
Lobbyists and paid advisers have stepped forward to speak up for Bahrain's government. Fast cars, cheering crowds and the sun. This is the image that the Bahraini government is eager to project to the world during the Formula One Grand Prix – which kicks off with team practice today.
US / Bahrain Relations...