Bahrain in the "Arab Spring"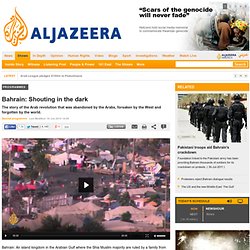 Bahrain: An island kingdom in the Arabian Gulf where the Shia Muslim majority are ruled by a family from the Sunni minority. Where people fighting for democratic rights broke the barriers of fear, only to find themselves alone and crushed. This is their story and Al Jazeera is their witness - the only TV journalists who remained to follow their journey of hope to the carnage that followed.
Bahrain: Shouting in the dark - Programmes
(Un)Historic Errors: Bahrain One Year On
On the eve of the first anniversary of the uprising in Bahrain, it might be time to step back from our usual celebration of the opposition's "good fight" and take a more critical look at its discourse to date.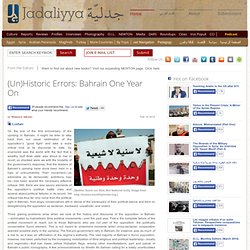 Bahrain charges medical staff - Middle East
Bahraini police have clashed with Shia marchers at religious processions in villages across the country, the country's opposition al-Wefaq movement and residents say. Police used tear gas, rubber bullets, sound grenades and birdshot to break up Sunday's marches, which were taking place in several Shia villages around Manama, the country's capital, the witnesses said.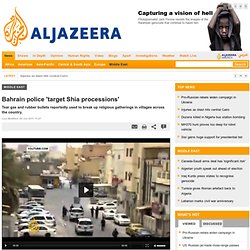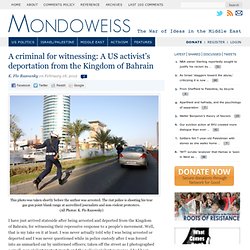 A criminal for witnessing: A US activist's deportation from the Kingdom of Bahrain
This photo was taken shortly before the author was arrested. The riot police is shooting his tear gas gun point blank range at accredited journalists and non-violent protesters. (All Photos: K.
Poet jailed in protests claims she was beaten by Bahraini royal - Middle East, World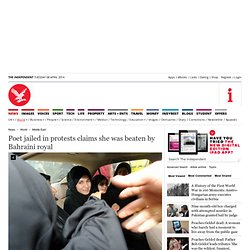 In an interview with The Independent, Ms Gormezi, who became a symbol of resistance to oppression in Bahrain, said that although her interrogators had tried to blindfold her, "I was able to see a woman of about 40 in civilian clothes who was beating me on the head with a baton".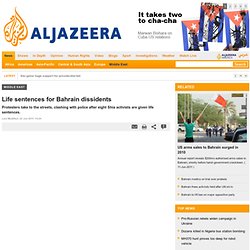 Bahrain activists jailed for life - Middle East
Police and protesters have clashed in Bahrain after eight Shia Muslim activists accused of plotting a coup to overthrow the Gulf Arab state's Sunni monarchy were sentenced to life in prison.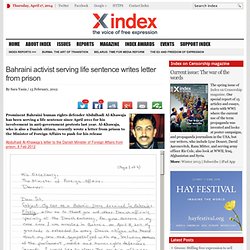 By Sara Yasin / 13 February, 2012
Bahraini activist serving life sentence writes letter from prison
Torture in Bahrain Becomes Routine With Help From Nokia Siemens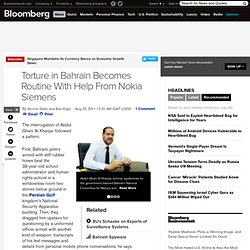 Tap for Slideshow Abdul Ghani Al Khanjar, activist, spokesman for the government-banned Bahraini National Committee for Martyrs and Victims of Torture.
Leading Bahrain opposition HQ tear-gassed in fresh wave of clashes
Follow Us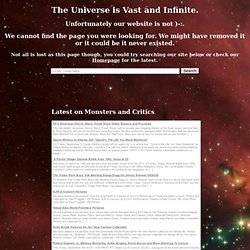 [The following press release was issued by Bahrain Centre for Human Rights on 26 March 2012.]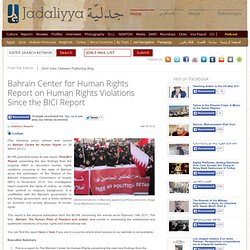 Bahrain Center for Human Rights Report on Human Rights Violations Since the BICI Report
In March, as a government crackdown on pro-democracy protestors intensified in Bahrain, curious advertisements started appearing in Pakistani media. "Urgent requirement - manpower for Bahrain National Guard," said one. "For service in Bahrain National Guard, the following categories of people with previous army and police experience are urgently needed," said another, with "previous experience" and "urgent need" underscored.
Pakistani troops aid Bahrain's crackdown - Features
Bahrain's February 14th movement has become a symbol of resistance and fortitude...and the most powerful political force in Bahrain today. This confederation of loosely organized networks, named after the date of the beginning of Bahrain's revolution, is faceless, secretive, and anonymous.
Bahrain's Revolutionaries - By Toby C. Jones and Ala'a Shehabi
In spite of claims that Bahrain's revolution has failed, the reality is that peaceful protests, a campaign of civil disobedience, and anti-Al Khalifa energy is at an all-time high. The regime's reliance on heavy-handed violence has failed to quell the country's revolutionary spirit or stamp out the opposition.
Bahrain's Revolutionaries Speak: An Exclusive Interview with Bahrain's Coalition of February 14th Youth
The stage seems to be set for February and March to be the scene of a significant intensification of tensions in Bahrain. The period will mark the one-year anniversaries of the protest movement, the government crackdown, and the "Peninsula Shield" intervention by Saudi-led Gulf Cooperation Council forces. More importantly, recent developments have pushed almost entirely away from substantive moves toward national accommodation or reconciliation.
Brace for the worst in Bahrain
The talk of Bahrain at present is talk -- the possible renewal of dialogue between the government and the opposition -- but the reality is that street protests, after simmering in outlying villages for months, have begun to heat up in the capital of Manama.
In the Kingdom of Tear Gas