Windows 7
Complete Guide to Symbolic Links (symlinks) on Windows or Linux. Want to easily access folders and files from different folders without maintaining duplicate copies?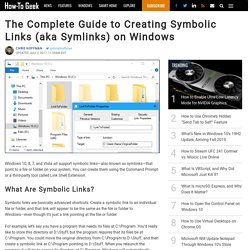 Here's how you can use Symbolic Links to link anything in Windows 7, Vista, XP, and Ubuntu. So What Are Symbolic Links Anyway? Symbolic links, otherwise known as symlinks, are basically advanced shortcuts. Using Symlinks in Windows Vista. One of the long-awaited features in Windows Vista was the ability to use symbolic links, the way you can in linux.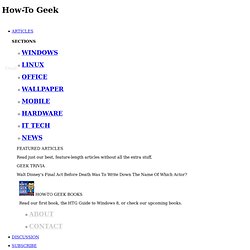 Sadly, they don't work quite as well as they could, but it's a big upgrade from prior versions, and has solved a number of problems for me already. Using the mklink Command The command that you need to use is mklink, which you'll use from the command line. Just type it on the command line to see the options: Microsoft Store Online. ISO Recorder v3. ISO Recorder for Windows Vista/Windows 7 supports CD, DVD and Blu Ray operations.
Blu Ray on Windows Vista requires SP2 (in beta as of January 23 2009). Release Log. Use a USB Key to Install Windows 7—Even on a Netbook. Everyone's excited about Windows 7, so am i.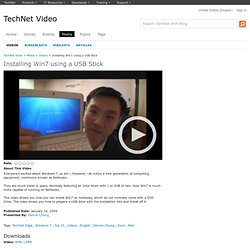 However, i do notice a new generation of computing equipment, commonly known as Netbooks. They are much lower in specs. Normally featuring an Intel Atom with 1 or 2GB of ram. Now Win7 is much more capable of running on Netbooks. Working with libraries. How to organize computer files and folders: 9 file management tips.
How to create an online photo album. Photography how to: 8 tips for super vacation photographs. Remote Server Administration Tools for Windows 7. Updated: June 4, 2009 Applies To: Windows 7, Windows Server 2008, Windows Server 2008 R2 To ease remote server management, you can download and install Remote Server Administration Tools for Windows® 7 on computers that are running Windows 7.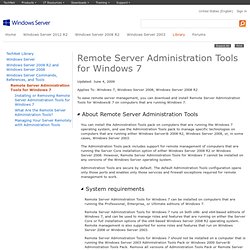 You can install the Administration Tools pack on computers that are running the Windows 7 operating system, and use the Administration Tools pack to manage specific technologies on computers that are running either Windows Server® 2008 R2, Windows Server 2008, or, in some cases, Windows Server 2003. The Administration Tools pack includes support for remote management of computers that are running the Server Core installation option of either Windows Server 2008 R2 or Windows Server 2008. However, Remote Server Administration Tools for Windows 7 cannot be installed on any versions of the Windows Server operating system.
---