Windows 7
Complete Guide to Symbolic Links (symlinks) on Windows or Linux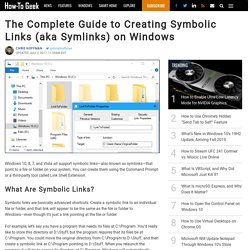 Want to easily access folders and files from different folders without maintaining duplicate copies? Here's how you can use Symbolic Links to link anything in Windows 7, Vista, XP, and Ubuntu. Symbolic links, otherwise known as symlinks, are basically advanced shortcuts. You can create symbolic links to individual files or folders, and then these will appear like they are stored in the folder with the symbolic link even though the symbolic link only points to their real location.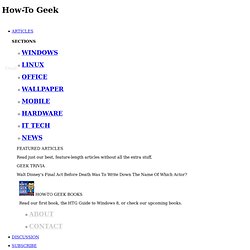 Using Symlinks in Windows Vista
One of the long-awaited features in Windows Vista was the ability to use symbolic links, the way you can in linux.
When you choose to download most software from the Microsoft Store, you have the option of using Download Manager or downloading from your browser. However, when you purchase Microsoft Windows 7 from Microsoft Store, you have an additional choice to make: whether to download a collection of compressed files or to download an ISO file. An ISO file combines all the Windows 7 installation files into a single uncompressed file. These instructions are for Windows 7 only.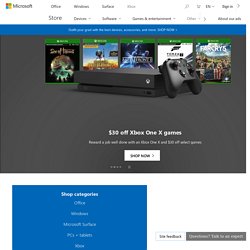 ISO Recorder v3
ISO Recorder for Windows Vista/Windows 7 supports CD, DVD and Blu Ray operations. Blu Ray on Windows Vista requires SP2 (in beta as of January 23 2009). Release Log
Everyone's excited about Windows 7, so am i.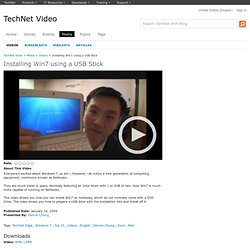 Use a USB Key to Install Windows 7—Even on a Netbook
In previous versions of Windows , managing your files meant organizing them in different folders and subfolders. In this version of Windows , you can also use libraries to organize and access files regardless of where they're stored. The navigation pane, showing the Pictures library with three included folders
Working with libraries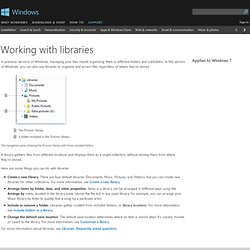 How to organize computer files and folders: 9 file management tips
The tips in this article can help you master file management by supplying some tips to help you better manage and organize computer files.
How to create an online photo album
Shooting great vacation photographs, even with that new digital camera , takes smarts and know-how. To help you take terrific digital photos on your next trip and to add fun photo effects to them, Microsoft At Home asked top photo gurus for their professional photography tips. Badly taken vacation photographs can be awfully disappointing, but good ones are a lifelong treasure.
Photography how to: 8 tips for super vacation photographs
Remote Server Administration Tools for Windows 7