Michael J. Fox
2013. 2012. 2011. Awards and Honors. Michael J. Fox. Fox was diagnosed with Parkinson's disease in 1991, and disclosed his condition to the public in 1998.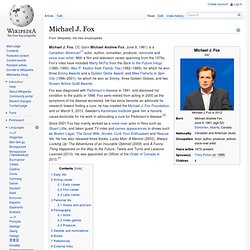 Fox semi-retired from acting in 2000 as the symptoms of his disease worsened. He has since become an advocate for research toward finding a cure; he has created the Michael J. Fox Foundation, and on March 5, 2010, Sweden's Karolinska Institutet gave him a honoris causa doctorate for his work in advocating a cure for Parkinson's disease.[2]
To The Future. Hello!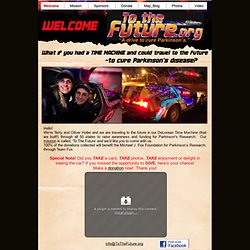 We're Terry and Oliver Holler and we are traveling to the future in our DeLorean Time Machine (that we built!) Through all 50 states to raise awareness and funding for Parkinson's Research. Our mission is called, 'To The Future' and we'd like you to come with us. 100% of the donations collected will benefit the Michael J. Michael J. Fox.
Michael J. Fox.
---