Interactive Surface
Disney's 'Touché' touch sensors detect gestures on flesh, furniture, or water. Disney Research, which previously came up with the SideBySide wall-based gaming concept, is back with what looks like a fairly sophisticated touch-sensing technology.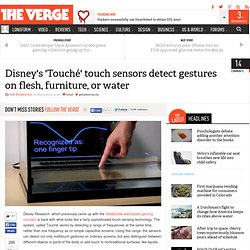 The system, called Touché, works by detecting a range of frequencies at the same time, rather than one frequency as on simple capacitive screens. Using this range, the sensors can detect not only multitouch gestures on ordinary screens, but also distinguish between different objects or parts of the body or add touch to nontraditional surfaces, like liquids. Microsoft Surface 2.0: From 'Minority Report' to Reality. The Designer Tech Series is supported by the exquisitely crafted, new 2013 Lincoln MKS with Lincoln Drive Control.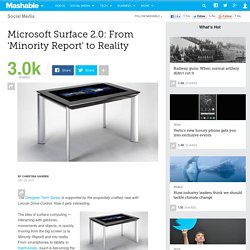 Now it gets interesting. Samsung SUR40 (Microsoft Surface 2.0) now shipping. Microsoft's second-generation Surface tabletop, also known as Samsung SUR40 and on pre-order since November, is now shipping.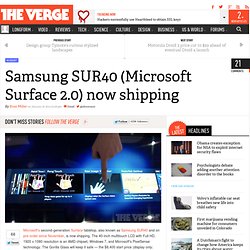 The 40-inch multitouch LCD with Full HD, 1920 x 1080 resolution is an AMD chipset, Windows 7, and Microsoft's PixelSense technology. The Gorilla Glass will keep it safe — the $8,400 start price (display only; $9,049 for the tabletop with matching stand) will keep it out of your home. Samsung SUR40 with Microsoft Surface 2 hands-on video. It wouldn't be CES without a demo of Microsoft's Surface technology, but this year is a little different — it's very close to being an actual product.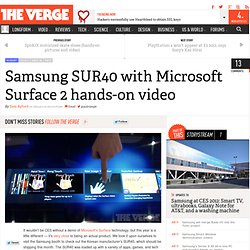 We took it upon ourselves to visit the Samsung booth to check out the Korean manufacturer's SUR40, which should be shipping this month. The SUR40 was loaded up with a variety of apps, games, and tech demos, including a raw view of what the SUR40's internal tracking cameras see. ExoPC EXOdesk hands-on pictures and video. ExoPC's EXOdesk was originally a touch-enabled panel running Windows 8 and powered by a Core i7 processor.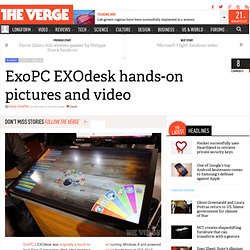 Well, after stopping by ViewSonic's booth here at CES 2012 we've learned the company has other plans for the EXOdesk. ExoPC has ditched the processor and computer components to help reduce cost, and what we're left with is merely a 1920x1080 32-inch touchscreen monitor fused to a desk. 3M's 46-inch multitouch table supports 20-point input (hands-on pictures) 3M has a monstrous 46-inch multitouch table on display at CES 2012 that reminds us of Microsoft's Surface.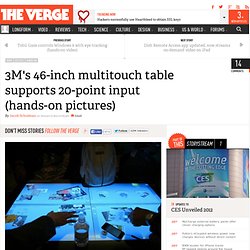 The display has a 1080p resolution, and currently supports up to 20 concurrent touches — though it's theoretically capable of tracking up to 60. Similar to Microsoft's take, 3M sees the technology being put to use in retail stores, military applications, and governmental offices. The software we saw was running off a Mac Mini, with basic Twitter and photo viewing clients. The table is smart enough to ignore palm and arm input, but that shouldn't be an excuse to put your elbows on it. MultiTouch 55-inch Surface-like display now available, upgradable to Windows 8. MultiTouch's 55-inch MultiTaction Cell MT550W7 display is now available to order.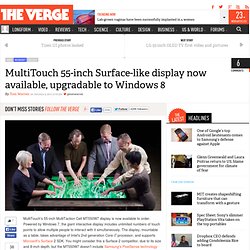 Powered by Windows 7, the giant interactive display includes unlimited numbers of touch points to allow multiple people to interact with it simultaneously. The display, mountable as a table, takes advantage of Intel's 2nd generation Core i7 processor, and supports Microsoft's Surface 2 SDK.
---