mHealth Devices
Jawbone acquires Massive Health to improve UP. San Francisco-based Jawbone, a company best known for fashion-minded Bluetooth headsets and iPod speakers, has acquired mobile health startup Massive Health and design firm Visere for an undisclosed sum to help it refine and improve its own wearable health device, UP.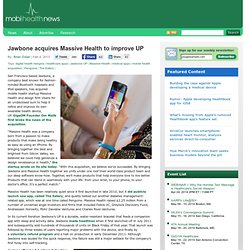 GigaOM Founder Om Malik first broke the news of the acquisition. "Massive Health was a company born from a passion to make products that make being healthy as easy as using an iPhone. By bringing together the best and brightest from Silicon Valley, we believed we could help galvanize a design renaissance in health," the startup wrote on its site today. "With this acquisition, we believe we've succeeded. By bringing Jawbone and Massive Health together we unify under one roof their world-class product team and our deep software know-how. Health Data.
Regulation
Future Tech. BANs and Sensors. Fitness Devices. Smart Pills / Dose regulation. Interactive Surface. UI Devs - Lenses / HUD. Tablets / Slates. Smartphone addons. KeyXL Keyboard Shortcuts. Self-sanitizing keyboard wins FDA nod for healthcare use. Vioguard, a company started by two Microsoft Hardware veterans and their business partners, says it has received U.S.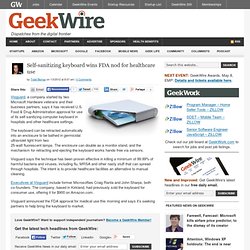 Food & Drug Administration approval for use of its self-sanitizing computer keyboard in hospitals and other healthcare settings. The keyboard can be retracted automatically into an enclosure to be bathed in germicidal ultraviolet light from two 25-watt fluorescent lamps.
---