mHealth Devices
San Francisco-based Jawbone, a company best known for fashion-minded Bluetooth headsets and iPod speakers, has acquired mobile health startup Massive Health and design firm Visere for an undisclosed sum to help it refine and improve its own wearable health device, UP. GigaOM Founder Om Malik first broke the news of the acquisition.
Jawbone acquires Massive Health to improve UP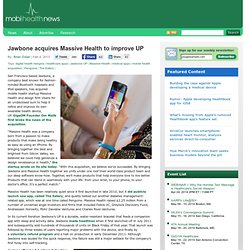 Smart Pills / Dose regulation
Vioguard, a company started by two Microsoft Hardware veterans and their business partners, says it has received U.S. Food & Drug Administration approval for use of its self-sanitizing computer keyboard in hospitals and other healthcare settings. The keyboard can be retracted automatically into an enclosure to be bathed in germicidal ultraviolet light from two 25-watt fluorescent lamps.
Self-sanitizing keyboard wins FDA nod for healthcare use