Miskolc Opera Festival
International Opera Festival Miskolc
Opera Rock Show Miskolc - Operafesztivál
Opera Rock Show sur MySpace Music - Ecoute gratuite de MP3, Phot
Chaîne de operarockshow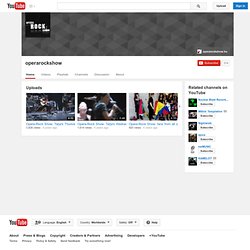 Welcome to YouTube! The location filter shows you popular videos from the selected country or region on lists like Most Viewed and in search results.To change your location filter, please use the links in the footer at the bottom of the page. Click "OK" to accept this setting, or click "Cancel" to set your location filter to "Worldwide". The location filter shows you popular videos from the selected country or region on lists like Most Viewed and in search results. To change your country filter, please use the links in the footer at the bottom of the page. Uploaded videos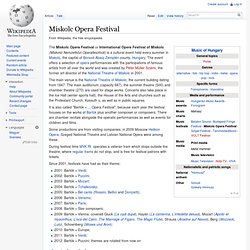 The Miskolc Opera Festival or International Opera Festival of Miskolc (Miskolci Nemzetközi Operafesztivál) is a cultural event held every summer in Miskolc, the capital of Borsod-Abaúj-Zemplén county, Hungary. The event offers a selection of opera performances with the participations of famous artists from all over the world and was created by Péter Müller Sziámi, the former art director of the National Theatre of Miskolc in 2001. The main venue is the National Theatre of Miskolc, the current building dating from 1847.
Miskolc Opera Festival
Voici une demi-chronique, qui ne concerne qu'un demi-album : le CD 1 de "The Classical Conspiracy" par Epica, jusqu'à la piste 12. Avant même d'ouvrir le boîtier, on a un pressentiment : l'artwork est certes joli, mais l'opposition "guitare électrique/violon" est d'un manque d'originalité... Bref, c'est pas la faute d'Epica, c'est le graphiste. Ensuite, le titre, qu'ils sont probablement allés chercher tellement loin... Mais c'est pas la faute d'Epica, c'est sûrement le producteur qui voulait ça.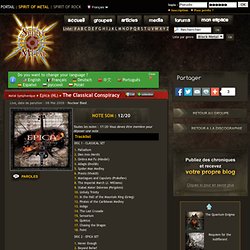 The Classical Conspiracy (Live) : Epica - Spirit of Metal Webzin
the classical conspiracy
The Miskolc Experience (Live) : Therion (SWE) - Spirit of Metal
Rise of Sodom and Gomorrah Therion Miskolc Exerience Goes Classi
Therion - Dies Irae (from" Requiem") (Mozart)
The Miskolc Experience