Metal
‪Robert Trujillo from Metallica jam with Rodrigo Y Gabriela Chicago‬‏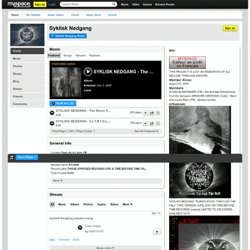 Bio: Member Since: August 07, 2009 Members:
Syklisk Nedgang | Kostenlose Musik, Tourdaten, Fotos, Videos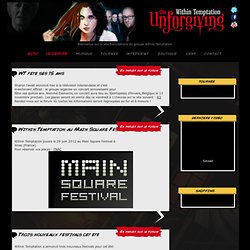 Le Theater Tour 2012 qui démarre ce soir promet d'être exceptionnel ! Non seulement le groupe nous offre une setlist avec de nombreuses chansons peu ou rarement jouées en concert mais un tout nouveau concept a été créé. L'histoire derrière cette série de concerts, nommée Sanctuary, se base dans les Highlands en 1895. Un jeune garçon souffrant d'une maladie inconnue se perd peu à peu dans un monde de rêves. Plusieurs personnes tentent de le faire revenir à la réalité sans grand succès puisque le jeune garçon ne semble pas prêt à quitter son sanctuaire. Un nouveau concept, de nouveaux décors, une setlist inédite...
Site Francophone
Forgiven - Within Temptation
Metal Symphonique |
Des nouvelles nous parviennent de nos amis allemands d'Equilibrium. Une bonne, et une mauvaise. Commençons par la mauvaise: deux des membres fondateurs, Sandra van Eldik et Andreas Völki, ont décidé de quitter le groupe, vraisemblablement pour explorer de nouveaux horizons musicaux. La formation se sépare donc de sa bassiste et de l'un de ses guitaristes, qui remercient tout de même leurs amis et collègues musiciens ainsi que tous leurs fans pour "cette période extraordinaire qu'il aurait été dommage de manquer". En conséquence, Equilibrium sera sans doute à la recherche de nouveaux talents dans les temps à venir, et qui sait, on peut rêver, peut-être en ferez-vous partie ! Vous pourrez par ailleurs retrouver les réactions détaillées du groupe sur sa page Facebook.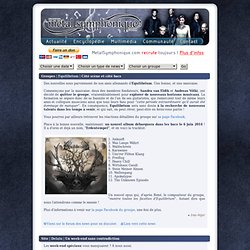 Les 100 Meilleurs Albums de Hard Rock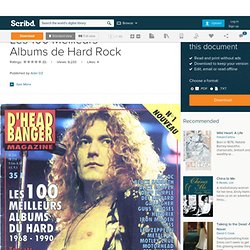 EditionsMC/I.NSAUPIQUET Isabelle·NellySAUPIQUET lsobelle-NellySAUPIQUET FredBURLET FredBURLET,OlivierGALAN,PhilPESTIlENCE,Jeun-PhilippeSIMONNOT
ACARUS SARCOPT "Tarnation" (Pictavia) CD disponible maintenant sur ARMEE DE LA MORT Records! Vous pouvez le commander grâce au magasin en ligne. Il est également disponible pour des échanges et prix de gros (n'hésitez pas à écrire). HEXECUTOR "Hangmen of Roazhon" (France) 7"EP disponible maintenant sur ARMEE DE LA MORT Records!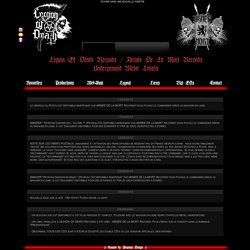 Legion of Death / Armée de la Mort Records
Rolling Stone: Metallica Explain How 'Through the Never' Became 'Sonically Awesome' February 3, 2014 When Metallica's monolithic statue of Lady Justice detonates and collapses around the band midway through their feature film, Metallica: Through the Never, its pieces thud and crash in ways that moviegoers could hear and feel. It's the sort of sensory overload the metal group was going for with the whole film, which follows a roadie on a drug-fueled surrealistic quest to retrieve a bag for the band, as Metallica play a concert to a packed arena. "We wanted to use the 3-D to bring people up onstage, to give the audience a feeling of immersion and being a part of what was happening," drummer Lars Ulrich tells Rolling Stone.
Metallica - Unforgiven [ OFFICIAL MUSIC VIDEO ]
Metallica - The Unforgiven II Music Video - E Tuning
Metallica-The Unforgiven 3 (with lyrics)
Chaîne de MetallicaTV
Silent Opera - LOOKING FOR A LABEL sur MySpace Music - Ecoute gr
Fenrir - The Wanderer
KRYPTERIA - Official Website
Krypteria - Victoriam Speramus
Blind Guardian The Bards Song - une vidéo Musique
Hardcore version dancefloor - Enhancer
Christopher Lee + Heavy Metal = Charlemagne
Midnattsol at Ragnarök Festival! Hi Folks, Midnattsol will play for you on April 6th live at the Ragnarök Festival (www.ragnaroek-festival.com) in Lichtenfels! Because of the fact that we are pretty busy working on our upcoming album at the moment, this gig will be the only Midnattsol liveshow in 2013. So hurry up and get some tickets - we're really locking forward to see you again! Horns up!
Nordic Folk Metal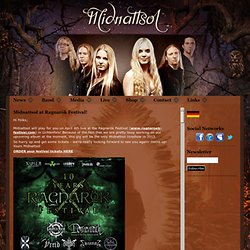 Midnattsol - discographie, line-up, biographie, interviews, phot
Midnattsol sur MySpace Music - Ecoute gratuite de MP3, Photos et