Edenbridge
Edenbridge. VOICIANO is the new acoustic project of the EDENBRIDGE main actors Sabine Edelsbacher (Vocals) and Lanvall (Grand Piano, acoustic guitars & other string instruments, Percussion).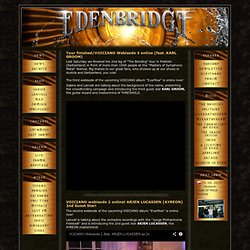 VOICIANO is based on acoustic instruments exclusively, mainly the grand piano. However many other instruments like acoustic guitars, hammered dulcimer, kacapi, bouzouki, mandolin, saz and diverse percussion instruments are appearing. Furthermore a real string orchestra can be heard, the orchestra "Junge Philharmonie Freistadt". The music was recorded nearly exclusively without any click tracks, that means without any predetermined tempo, which accentuates the liveliness and soul of the songs. The piano parts as a main basis were recorded live continuously at all. Edenbridge sur MySpace Music - Ecoute gratuite de MP3, Photos et. Musique à la demande, musique gratuite et illimitée sans télécha.
Paramount. The Grand Design.
---