Thinktank
La secretaria general del PSOE de Andalucía y presidenta de la Junta, Susana Díaz, ha asegurado que "no podemos flaquear ni titubear ante la oportunidad de que la igualdad entre hombres y mujeres sea real y efectiva". En su intervención en el Foro Ideálogos 'El liderazgo social de las mujeres visto por periodistas' de la Fundación Alfonso Perales, la líder socialista ha señalado que "reconocemos el liderazgo como una cualidad en el hombre pero choca que una mujer ejerza el poder, y éste es el síntoma de que aún hoy el ejercicio del poder en su conjunto no está asumido en términos de igualdad". Susana Díaz ha realizado estas consideraciones tras la presentación del acto a cargo de la vicepresidenta ejecutiva de la Fundación Alfonso Perales, Amparo Rubiales, quien ha abierto el debate sobre la violencia machista asegurando que "658 mujeres asesinadas en diez años son demasiadas para que no se produzca alarma social".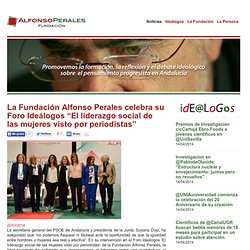 Página de inicio de la Fundación Alfonso Perales
Global Governance Monitor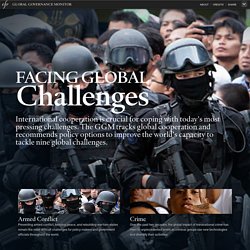 Produced by the Council on Foreign Relations and MediaStorm Executive ProducersStewart Patrick, CFRBrain Storm, MediaStorm Producer/Writer: Kaysie Brown and Farah Faisal ThalerMultimedia Producer: Jeremy SherlickConsulting Fellow: Mark P. LagonResearch Associates: Isabella Bennett, Ryan Kaminski, Emma Welch
Fundación Ideas, plataforma de pensamiento, investigación de la sociedad, espacio de debate, fábrica de ideas
Institución Futuro
Privacy Policy TalentSmart is serious about respecting your privacy. Our goal is outstanding service, which includes strict adherence to the following Privacy Policy. Please read on to learn more. Security and Confidentiality
The leading provider of emotional intelligence tests, training and products.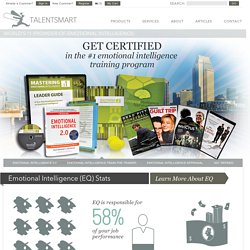 Real Instituto Elcano
Inicio - Fundación Alternativas