Mental Health
Trieste MHD: Archive of texts. On this page you will find an archive of texts on all aspects of mental healthcare in Trieste and related topics, with a historical survey of the deinstitutionalisation process in Trieste and an introduction to the life and work of Franco Basaglia, together with a selection of his writings.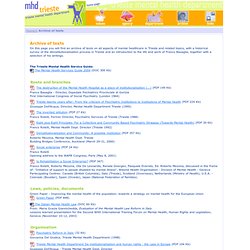 The Trieste Mental Health Service Guide: The Mental Health Services Guide 2004 (DOC 300 Kb) | ccoms. EDITIONS ERES - Les sciences humaines et les pratiques qui s'en inspirent.
Mental Health & Social Exclusion
Intervention Methods. Care Networks.
---