Greek horse myths
Unicorn
Of the Unicorn The unicorn is a legendary animal that has been described since antiquity as a beast with a large, pointed, spiraling horn projecting from its forehead. The unicorn was depicted in ancient seals of the Indus Valley Civilization and was mentioned by the ancient Greeks in accounts of natural history by various writers, including Ctesias, Strabo, Pliny the Younger, and Aelian.[1] The Bible also describes an animal, the re'em, which some translations have rendered with the word unicorn.[1] In European folklore, the unicorn is often depicted as a white horselike or goatlike animal with a long horn and cloven hooves (sometimes a goat's beard). In the Middle Ages and Renaissance, it was commonly described as an extremely wild woodland creature, a symbol of purity and grace, which could only be captured by a virgin. In the encyclopedias its horn was said to have the power to render poisoned water potable and to heal sickness.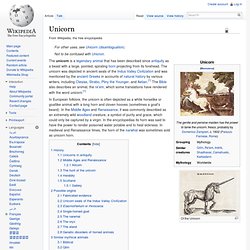 Hippocamp
The hippocamp or hippocampus, also hippokampoi (plural: hippocamps or hippocampi; Greek: ἱππόκαμπος, from ἵππος, "horse" and κάμπος, "monster"[1]), often called a sea-horse[2] in English, is a mythological creature shared by Phoenician[3] and Greek mythology, though the name by which it is recognised is purely Greek. It was also adopted into Etruscan mythology. It has typically been depicted as a horse in its forepart with a coiling, scaly, fish-like hindquarter. Mythology[edit] Phoenician and Lydian[edit] Coins minted at Tyre around the fourth century BCE show the patron god Melqart riding on a winged hippocamp and accompanied by dolphins, as seen in the Yizre'el Valley silver hoard.[3]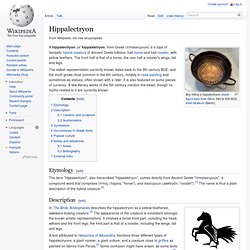 A hippalectryon (or hippalektryon, from Greek ἱππαλεκτρυών) is a type of fantastic hybrid creature of Ancient Greek folklore, half-horse and half-rooster, with yellow feathers. The front half is that of a horse, the rear half a rooster's wings, tail and legs. The oldest representation currently known dates back to the 9th century BCE, and the motif grows most common in the 6th century, notably in vase painting and sometimes as statues, often shown with a rider.
Hippalectryon
Mares of Diomedes
The Mares of Diomedes, also called the Mares of Thrace, were four man-eating horses in Greek mythology. Magnificent, wild, and uncontrollable, they belonged to the giant Diomedes (not to be confused with Diomedes, son of Tydeus), king of Thrace, a son of Ares and Cyrene who lived on the shores of the Black Sea. Bucephalus, Alexander the Great's horse, was said to be descended from these mares. The Eighth Labour of Heracles[edit] After capturing the Cretan bull, Heracles was to steal the Mares.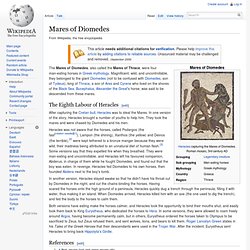 Centaur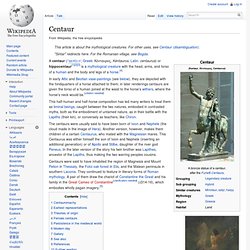 Brooklyn Museum - Centauress - John La Farge - overall A centaur (/ˈsɛntɔːr/; Greek: Κένταυρος, Kéntauros, Latin: centaurus) or hippocentaur[1][2][3] is a mythological creature with the head, arms, and torso of a human and the body and legs of a horse.[4] In early Attic and Beotian vase-paintings (see below), they are depicted with the hindquarters of a horse attached to them; in later renderings centaurs are given the torso of a human joined at the waist to the horse's withers, where the horse's neck would be.[citation needed]
Balius and Xanthus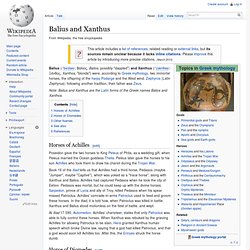 Balius (/ˈbeɪliəs/; Βάλιος, Balios, possibly "dappled") and Xanthus (/ˈzænθəs/; Ξάνθος, Xanthos, "blonde") were, according to Greek mythology, two immortal horses, the offspring of the harpy Podarge and the West wind, Zephyros (Latin Zephyrus); following another tradition, their father was Zeus. Note: Balius and Xanthus are the Latin forms of the Greek names Balios and Xanthos. Horses of Achilles[edit] Poseidon gave the two horses to King Peleus of Phtia, as a wedding gift, when Peleus married the Ocean goddess Thetis. Peleus later gave the horses to his son Achilles who took them to draw his chariot during the Trojan War. Book 16 of the Iliad tells us that Achilles had a third horse, Pedasos (maybe "Jumper", maybe "Captive"), which was yoked as a "trace horse", along with Xanthus and Balios.
Pegasus
Pegasus (Ancient Greek: Πήγασος, Pégasos, Latin Pegasus) is one of the best known mythological creatures in Greek mythology. He is a winged divine stallion usually depicted as pure white in color. He was sired by Poseidon, in his role as horse-god, and foaled by the Gorgon Medusa.[1] He was the brother of Chrysaor, born at a single birthing when his mother was decapitated by Perseus. Greco-Roman poets write about his ascent to heaven after his birth and his obeisance to Zeus, king of the gods, who instructed him to bring lightning and thunder from Olympus. Friend of the Muses, Pegasus is the creator of Hippocrene, the fountain on Mt. Helicon.