Cures for cancer
G. Edward Griffin - A World Without Cancer - The Story Of Vitamin B17
Cancer Survivors USA - a road trip and an open letter to Senator Tom Harkin
Welcome to immunics CureDrive
Boy with brain cancer 'cured' after secretly fed medical marijuana by father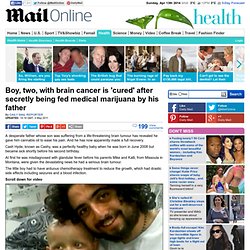 By Daily Mail Reporter Updated: 14:16 GMT, 4 May 2011 A desperate father whose son was suffering from a life-threatening brain tumour has revealed he gave him cannabis oil to ease his pain. And he has now apparently made a full recovery. Cash Hyde, known as Cashy, was a perfectly healthy baby when he was born in June 2008 but became sick shortly before his second birthday.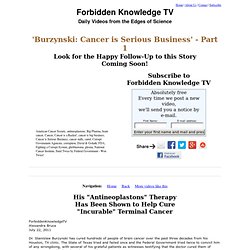 Cancer 'Burzynski: Cancer is Serious Business' Full-Length Documentary
Home | About Us | Contact | Subscribe 'Burzynski: Cancer is Serious Business' - Part 1 Look for the Happy Follow-Up to this StoryComing Soon! His "Antineoplastons" TherapyHas Been Shown to Help Cure"Incurable" Terminal Cancer ForbiddenKnowledgeTV Alexandra Bruce July 22, 2011
BAKING SODA Kills CANCER,2of2 Matches NC Dr 30years ago.Cured his CANCER 5 days YT=VitoVerns CH
Homepage | I Had Cancer.
‪John Kanzius' Water Fuel Cell‬‏
chemo.jpg (JPEG Image, 742x439 pixels)
trigger stem cells
Hulda Clark Documentary - The Cure
Rife Microscope - Royal Ryaymond Rife
Revici Method - Emanuel Revici
Ozias Treatment - Charles Ozias
Livingson Vaccine - Virginia Livingston
Immuno - Augumentive Therapy - Lawrence Burton
Hydrazine Sulfate - Joseph Gold
Glyocylide - William F. Koch
Coffey - humber extract - Walter coffey & John Humber
Coley's Toxins - william coley
Bacteriophage - Robert Lincion
Macrobiotics - Michio Kushi
Vitamin C - Linus Pauling, Nobel Laureate