Cancer
Staging and Grading Cancer. If left untreated, cancers often go through three stages: 1.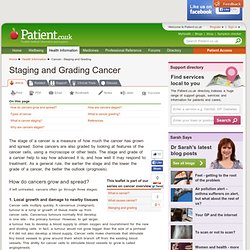 Local growth and damage to nearby tissues Cancer cells multiply quickly. Stages of Colorectal Cancer with Dukes and TNM staging system | Health Topics. 1.
Older colorectal cancer stages is based on Dukes staging system. Stage 1: (Dukes'A): 0) lesions limited to mucosal layer (carcinoma in situ). Union for International Cancer Control.
---