Outils
Buffer is a smarter way to Tweet.
Great minds search alike. Shortcodes « Support — WordPress.com. What is a shortcode?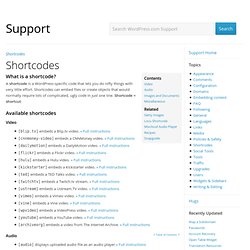 A shortcode is a WordPress-specific code that lets you do nifty things with very little effort. Shortcodes can embed files or create objects that would normally require lots of complicated, ugly code in just one line. Shortcode = shortcut. Available shortcodes Video. Sauvegarder automatiquement vos liens Twitter sur Delicious. Dashboard Everything.
---