R 2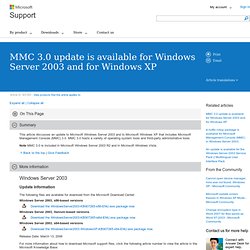 Actualização MMC 3.0 está disponível para o Windows Server 2003 e para o Windows XP
Windows Server 2003 Update information The following files are available for download from the Microsoft Download Center:
FortiusOne Visual Intelligence Solutions | Visual Intelligence, Smarter Decisions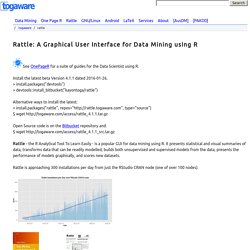 Rattle: A Graphical User Interface for Data Mining using R See OnePageR for a suite of guides for the Data Scientist using R. Version 3.0.4 release 177 dated 2014-04-10. > install.packages("rattle", repos="http://rattle.togaware.com", type="source") $ wget http://togaware.com.au/access/rattle_3.0.4.tar.gz Rattle (the R Analytical Tool To Learn Easily) presents statistical and visual summaries of data, transforms data into forms that can be readily modelled, builds both unsupervised and supervised models from the data, presents the performance of models graphically, and scores new datasets. Errata Brochure Documentation Information Install Support Coding Other Resources
User Documentation At the time of this writing, the most complete overview of RKWard is given in an article in the Journal of Statistical Software (Abstract, PDF). Our Screenshots and Mission Statement may also help to get a basic idea of RKWard, quickly. Further important resources for end users:
Welcome to RKWard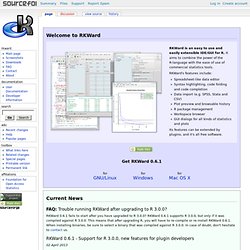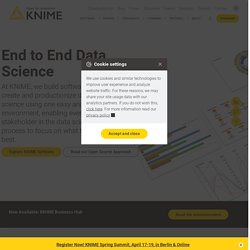 KNIME [naim] is a user-friendly graphical workbench for the entire analysis process: data access, data transformation, initial investigation, powerful predictive analytics, visualisation and reporting. The open integration platform provides over 1000 modules (nodes), including those of the KNIME community and its extensive partner network. KNIME can be downloaded onto the desktop and used free of charge.