Mayans
Killuminati- Wake up and become enlighted, Be aware that everything is far from what it seems. Let as many people in on what is really going on because at this point it is almost impossible to stop their plan unless every single person is aware on what is really happening, i.am.god Aug 25
Steep Uphill Climb to 2012: Messages from the Mayan Milieu ©- Copyright 2002 by Steven McFadden In early Autumn 2002, Carlos Barrios journeyed North from his home in Guatemala to the Eastern edge of the Four Corners. In Santa Fe, NM, at the tail of the Rocky Mountain spine, Mr.
Use this beautifully designed Tzolkin interactive calendar to discover the meaning of the 20 mayan day signs or sun signs and the 13 mayan numbers related to the Tzolkin that make the 260 tzolkin combinations. If you are using a mobile device that does not support Flash you may not be able to see the calculator. However as an alternative, you can use our companion mobile app "MCP Mayan Tzolkin" which is fully loaded with a Tzolkin calculator, daily energies and much more.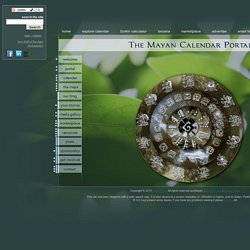 The Dresden Codex -- the Book of Mayan Astronomy
Maya mythology is part of Mesoamerican mythology and comprises all of the Maya tales in which personified forces of nature, deities, and the heroes interacting with these play the main roles. Other parts of Maya oral tradition (such as animal tales and many moralising stories) do not properly belong to the domain of mythology, but rather to legend and folk tale. [ edit ] Sources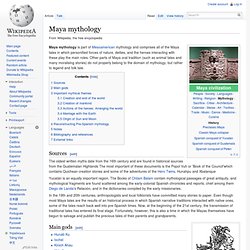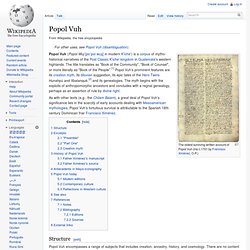 Popol Vuh ( Popol Wuj [poˈpol wuχ] in modern K'iche' ) is a corpus of mytho-historical narratives of the Post Classic K'iche' kingdom in Guatemala 's western highlands. The title translates as "Book of the Community", "Book of Counsel", or more literally as "Book of the People". [ 1 ] Popol Vuh's prominent features are its creation myth , its diluvian suggestion, its epic tales of the Hero Twins Hunahpú and Xbalanqué, [ 2 ] and its genealogies.