Maya
Maya Tutorials
Alias Maya tutorials 3D modeling Mental Ray rendering
\ . Welcome to Next Limit Technologies . /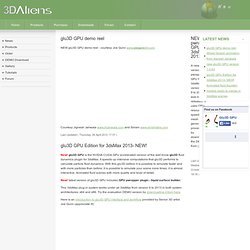 A new way of cg fluids simulation
New! glu3D GPU is the NVIDIA CUDA GPU accelerated version of the well know glu3D fluid dynamics plugin for 3dsMax. It speeds up intensive computations that glu3D performs to calculate particle fluid dynamics. With this glu3D edition it is possible to simulate faster and with more particles than before; it is possible to simulate your scene more times; it is almost interactive.
MJ Poly Tools
Maya Unlimited 2.0 Master Index
ZooRender 3.0
Maya (software)
Autodesk Maya ( pron.: / ˈ m ɑː j ə / ), commonly shortened to Maya , is 3D computer graphics software that runs on Windows , Mac OS and Linux , originally developed by Alias Systems Corporation (formerly Alias|Wavefront) and currently owned and developed by Autodesk, Inc. It is used to create interactive 3D applications, including video games, animated film, TV series, or visual effects. The product is named after the Sanskrit word Maya ( माया māyā ), the Hindu concept of illusion. [ 3 ] [ edit ] History [ edit ] Development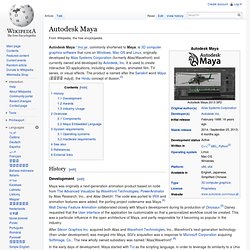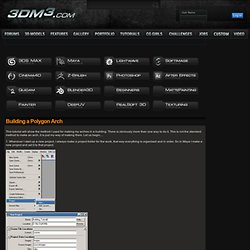 FREE 3DS MAX MODELS FREE 3DS MAX TUTORIALS MODELING CAR BLUEPRINTS 3D GALLERY 3D GIRLS CG MOVIES DOWNLOADS
This tutorial will show the method I used for making my arches in a building. There is obviously more than one way to do it. This is not the standard method to make an arch, it is just my way of making them. Let us begin.... 1.
Maya Tutorials - Learning Maya
web 3D service - SELECTED MAYA TUTORIALS - free tutorials
Free Maya Books & Free Maya Tutorials
Maya Tutorials, Tips, Techniques
Jake's Alias Bible
TUTORIAL JOAN of ARC
Sidan du frågade efter finns tyvärr inte hos oss. Är du säker på att du skrev in rätt adress? Gå till www.gu.se :s förstasida och leta rätt på länken till den information du söker.
Medialab - Pages
Training DVDs, Tutorials, Tips
tutorials