Maya
Alias Maya tutorials 3D modeling Mental Ray rendering. Controlling Fog Density, by Alex Alvarez.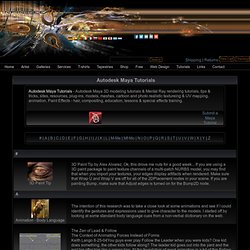 Fog is a term often used to represent a variety of natural phenomenon within a 3D renderer. In nature, fog consists of water vapor yet in Maya you may use 'fog' to also represent dust, smoke, air, smog, plasma, nebulae or even magical glows and spells. To be able to yield such a variety of effects from fog, one must have a clear understanding of the volume shader associated with it.
Specifically, our focus in this discussion is 'light fog', not volume primitives or environment fog. These are related topics, yet they use different nodes and are for another discussion. \ . Welcome to Next Limit Technologies . / A new way of cg fluids simulation. MJ Poly Tools. ZooRender 3.0. Simply Maya - Video training for Maya 3D.
Maya (software) History[edit] Development[edit] Maya 1.0 was released in February 1998.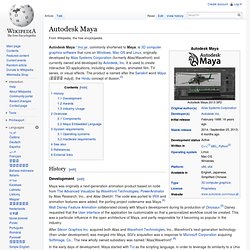 Following a series of acquisitions, Maya was bought by Autodesk in 2005.[8][9] Under the name of the new parent company, Maya was renamed Autodesk Maya. However, the name "Maya" continues to be the dominant name used for the product. FREE 3DS MAX MODELS FREE 3DS MAX TUTORIALS MODELING CAR BLUEPRINTS 3D GALLERY 3D GIRLS CG MOVIES DOWNLOADS.
This tutorial will show the method I used for making my arches in a building.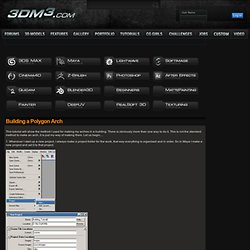 There is obviously more than one way to do it. This is not the standard method to make an arch, it is just my way of making them. Let us begin.... 1. Maya Tutorials - Learning Maya. Web 3D service - SELECTED MAYA TUTORIALS - free tutorials. Free Maya Books & Free Maya Tutorials. Maya Tutorials, Tips, Techniques. Jake's Alias Bible. TUTORIAL JOAN of ARC. Training DVDs, Tutorials, Tips. Tutorials.
---