MARVEL
Item 47
Joss Whedon and Marvel Studios Announce 'Avengers: Age of Ultron' as Sequel to 'The Avengers' S.H.I.E.L.D. Kick Ass 2. Sneak Peek At 90-Minute "Building A Cinematic Universe" Featurette On AVENGERS Blu-Ray. Marvel Studios presents in association with Paramount Pictures Marvel's The Avengers--the super hero team up of a lifetime, featuring iconic Marvel super heroes Iron Man, the Incredible Hulk, Thor, Captain America, Hawkeye and Black Widow.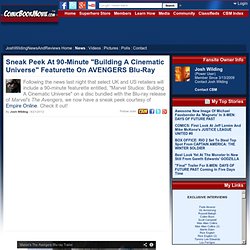 When an unexpected enemy emerges that threatens global safety and security, Nick Fury, Director of the international peacekeeping agency known as S.H.I.E.L.D., finds himself in need of a team to pull the world back from the brink of disaster. Spanning the globe, a daring recruitment effort begins. Chris Evans as Steve Rogers/Captain America Robert Downey Jr. as Tony Stark/Iron Man Chris Hemsworth as Thor Jeremy Renner as Clint Barton/Hawkeye Scarlett Johansson as Natasha Ramanoff/Black Widow Mark Ruffalo as Bruce Banner/Hulk Samuel L. Jackson as Nick Fury Clark Gregg as Agent Coulson Cobie Smulders as Maria Hill Tom Hiddleston as Loki. Why Joss Whedon's Exclusive Marvel Contract Could Actually Be a Big Deal.
Guardians of the Galaxy. Cinematic Universe. List of films based on Marvel Comics. Below is a list of films based on Marvel Comics characters and properties including its various imprints.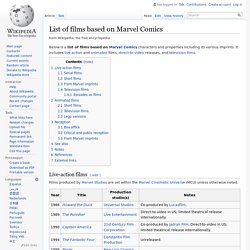 It includes live action and animated films, direct-to-video releases, and television movies. Live-action films[edit] Short films[edit] To date, all live-action short films were produced by Marvel Studios, are part of the Marvel One-Shots series, and have been included as special features on Marvel Cinematic Universe Blu-ray releases. With Great Power The Stan Lee Story The Movie.
Superheroes
Marvel au cinéma. Ghost Rider. Projets. Univers X-men. Iron Man. The Amazing Spider-Man. The Avengers. Ant-Man. THOR.
---