Anniversary tributes
As icons go, few Canadians can claim the cachet of Herbert Marshall McLuhan. Think of it: a humble, tweedy academic (an English literature scholar, no less) who became a household name, right up there with the Beatles, Andy Warhol and Timothy Leary. For most of the 1960s and part of the 1970s, McLuhan seemed to be everywhere – on radio, in print, in film (most notably with a cameo appearance in Woody Allen's Annie Hall) and especially on television.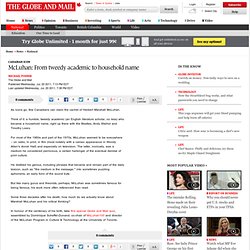 McLuhan: From tweedy academic to household name
'A prophet is not without honour", says the Bible, "save in his own country."
Thanks, Marshall, I think we've finally got the message... | Technology | The Observer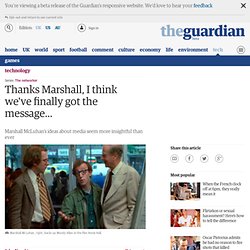 Why McLuhan's chilling vision still matters today | Douglas Coupland | Comment is free
Over the years I've been asking people in my life who are old enough to remember which technological change felt more like a cathartic change to society: TV in the 1950s or the internet since 2000. Up until about 2006, everyone said TV. Since then – call me crazy, but I think it has to do with Google – it's been the internet and all its spawn: YouTube, smartphones, Facebook, apps … and everything else that jackhammers away at the time we once reserved for books, newspapers, daydreaming and, ironically, TV.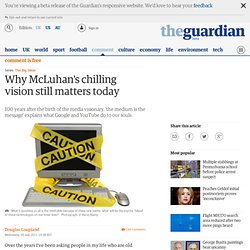 The Big Ideas podcast: The medium is the message | Comment is free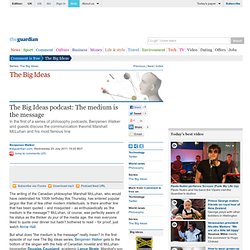 The writing of the Canadian philosopher Marshall McLuhan, who would have celebrated his 100th birthday this Thursday, has entered popular jargon like that of few other modern intellectuals. Is there another line that has been quoted – and misquoted – as enthusiastically as 'the medium is the message'?
Posted by Tom Foremski - July 23, 2011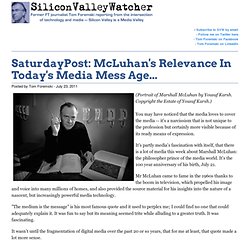 The Importance Of Marshall McLuhan And His Ideas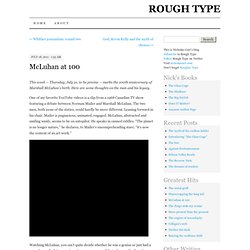 McLuhan at 100
This week — Thursday, July 21, to be precise — marks the 100th anniversary of Marshall McLuhan's birth.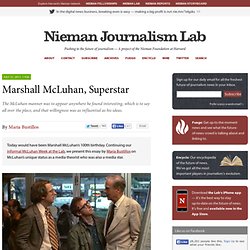 There was no longer a single thing in [the] environment that was not interesting [...] "Even if it's some place I don't find congenial, like a dull movie or a nightclub, I'm busy perceiving patterns," he once told a reporter.
Marshall McLuhan, Superstar » Nieman Journalism Lab » Pushing to the Future of Journalism
McLuhan at 100
Tomorrow is Marshall McLuhan's 100th birthday.
Playboy McLuhan interview
The medium is the message in today's connected world