gTLDs
Getting Ready for New gTLDs. Getting Ready: Understanding the Applicant Guidebook Questionnaire Applying for a new generic top-level domain (gTLD) involves filling out a form that poses 50 questions.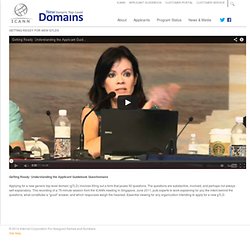 The questions are substantive, involved, and perhaps not always self-explanatory. This recording of a 75-minute session from the ICANN meeting in Singapore, June 2011, puts experts to work explaining for you the intent behind the questions, what constitutes a "good" answer, and which responses weigh the heaviest. Interview with ICANN Chief Security Officer Jeff Moss. In this video interview, ICANN's Vice President and Chief Security Officer Jeff Moss describes the glitch that led ICANN to take offline the application system for new generic top-level domains (gTLDs).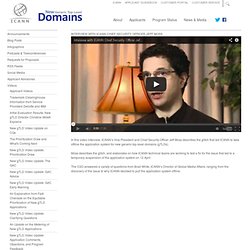 Moss describes the glitch, and elaborates on how ICANN technical teams are working to test a fix for the issue that led to a temporary suspension of the application system on 12 April. The CSO answered a variety of questions from Brad White, ICANN's Director of Global Media Affairs, ranging from the discovery of the issue to why ICANN decided to pull the application system offline. Overview. Overview: Get Ready for the Next Big .Thing If you are wondering whether your organization should apply to operate a new generic top-level domain (gTLD), but you're not quite sure what that implies, this video offers a starting point.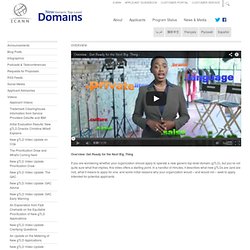 In a handful of minutes, it describes what new gTLDs are (and are not), what it means to apply for one, and some initial reasons why your organization would – and would not – seek to apply. Intended for potential applicants. Icann admits gTLD software flaw may have revealed rival bid details | Technology. The internet naming company Icann has admitted that rival bidders for highly valuable new internet domains could have seen each others' secret bids because of flaws in its registration software.
The company took the system offline on Thursday afternoon, just hours before applications were due to close after being open for more than three months. In a dramatic announcement at about 0200 on Friday morning UK time, Akram Atallah, chief operating office at the organisation which is in overall charge of the allocation of new IP addresses and "top-level domains", said that a glitch "has allowed a limited number of users to view some other users' file names and user names in certain scenarios. " He said that "Out of an abundance of caution, we took the system offline to protect applicant data.
Domain names: Internet takes big step toward end of .com era. Thursday marks the opening bell for anyone who wants a website ending with something other than .com, .edu, or one of the other 20 familiar Internet suffixes.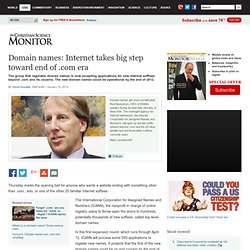 Skip to next paragraph Subscribe Today to the Monitor Click Here for your FREE 30 DAYS ofThe Christian Science MonitorWeekly Digital Edition The International Corporation for Assigned Names and Numbers (ICANN), the nonprofit in charge of online registry, plans to throw open the doors to hundreds, potentially thousands of new suffixes, called top-level domain names. In this first expansion round, which runs through April 12, ICANN will process some 500 applications to register new names. New era for Web site names begins Thursday. Network World - A new era of Web site naming begins Thursday, when Internet policymakers start accepting applications for hundreds - perhaps thousands - of new domain name extensions such as .hotel and .paris.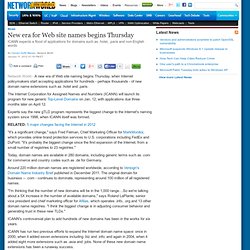 The Internet Corporation for Assigned Names and Numbers (ICANN) will launch its program for new generic Top-Level Domains on Jan. 12, with applications due three months later on April 12. Experts say the new gTLD program represents the biggest change to the Internet's naming system since 1998, when ICANN itself was formed. RELATED: 5 major changes facing the Internet in 2012. ICANN Forced to Delay Web-Domain Deadline - Digits. ICANN New TLD application deadline extended to April 20. Technical problems lead to deadline extension.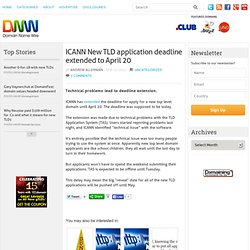 ICANN has extended the deadline for apply for a new top level domain until April 20. The deadline was supposed to be today. The extension was made due to technical problems with the TLD Application System (TAS). Users started reporting problems last night, and ICANN identified "technical issue" with the software. It's entirely possible that the technical issue was too many people trying to use the system at once. TAS glitch will call in to question digital archery for new TLDs. Will applicants trust results of digital archery?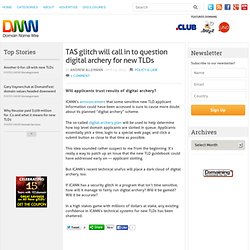 ICANN's announcement that some sensitive new TLD applicant information could have been accessed is sure to cause more doubt about its planned "digital archery" scheme. The so-called digital archery plan will be used to help determine how top level domain applicants are slotted in queue. Internet Corporation for Assigned Names and Numbers.
---