Marketing
www.businessbuilders.bz/Objective&Performance-Measurement-Examples.pdf
A few times a month we revisit some of our reader's favorite posts from throughout the history of FreelanceSwitch. This article by Shaun Crowley was first published August 5th, 2007, yet is just as relevant and full of interesting information today. Your design can only be as good as the brief you worked from.
The Ultimate Design Brief
Why Use a Pool Cue Case to Protect Your Stick | Billiard Tables
After 3 weeks in adventurer mode through Ethiopia, a dramatic reversal of lifestyle seemed appropriate. Addis Ababa -> Bahrain, Bahrain -> Uneventful Bahrain, Bahrain -> Bangkok : Secured the "ghetto upgrade" (you are on a giant aircraft and the flight is so empty you can claim and entire central isle) : List of things I learned between Bahrain and Bangkok : Coca-cola is still identifiable as Coca-cola by westerners when written in Arabic The average Greek sexpat to Thailand doesn't believe that Greece is at fault in the Eurozone crisis The average German ecotourist is profoundly upset with Greece Walking out of a plane in Bahrain, three temperatures - normal plane temp, followed inside-a-steel-walkway-in-the-desert-heat, and finally ICE FRIGGIN COLD air-conned airport luxury overload does not help with jetlag Most taxis in Bangkok are hot pink. Very hot. Bangkok for me consisted mostly of having an upset stomach and moving up in pad-thai spice-level. Also, I found a pool scene.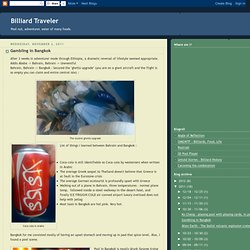 Gambling in Bangkok