Marketing
Digiday | Digital Content, Digital Advertising, Digital Marketing
The 5 Things Every (Great) Marketing Story Needs
At last month's PSFK SEATTLE event, we invited some of the city's innovative people to discuss their latest projects and reveal the inspiration that lead to their creation.
How To CreateThe Best Retail Experience [PSFK SEATTLE]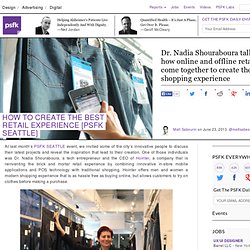 Get Ready for a Journey: Customer Experience is Changing
Social Proof Meets Storytelling to Build an Awesome Brand
Social@Ogilvy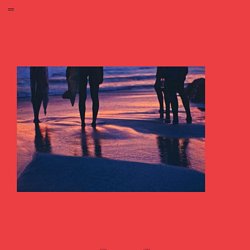 This post first appeared on Fast Company By now, hopefully, we can all agree that we have collectively debunked the myth of manufactured "virality."
The Power of Visual Content and Brand Visuals in Action
Visual content is certainly trendy – see the meteoric rise in infographics and social engagement with images as proof. Yet the need for content that appeals on a visual level and presents information in a more engaging format than text goes far beyond what is cool or fun to create. In creating curriculum and learning materials for students (child to adult) and their teachers, I learned just how important visuals are in meeting the needs of different types of learners .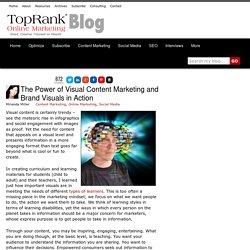 Long before GroupHigh or the term "influencer marketing" became popular, PR Professionals were building relationships. While the mainstream media longs for an "easy button" true professionals know that an authentic relationship can't be "activated" – "at scale". If buzzwords like the above make you shake your head, check out Grouphigh's outreach software which streamlines the research and organization process required to build and manage relationships without compromising the authenticity of your outreach.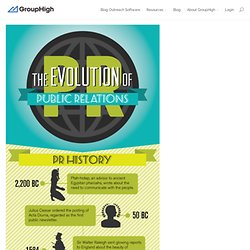 The Evolution of PR - GroupHigh
The United States has been making efforts to refocus its military, trade and economic ties with the part of the world that is actually still growing - Southeast Asia.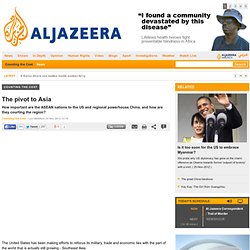 The pivot to Asia - Counting the Cost
Why Social Media Marketing May Be Hurting, Rather Than Helping, Your Business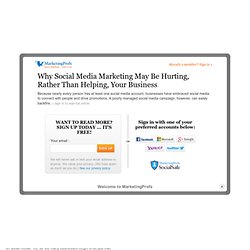 Because nearly everyone nowadays seems to have at least one social media account, many businesses have embraced social media as a way to connect with more people—customers and prospects—and to drive promotions. A poorly managed business social media campaign, however, can easily backfire if the right measures are not put in place by key people in your organization. Social media is in real time, and something can go wrong in only a millisecond.
Click, click, click, click. Zynga and the gamification of clicking « G|A|M|E
Although the era of the social network game officially began with the launch of the Facebook Platform in 2007, it wasn't until 2009 that social network games began to attract the spotlight of mainstream media with the runaway successes of several games.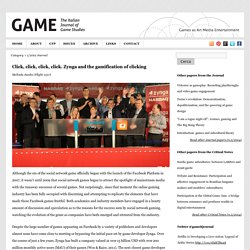 Why Gamification has Value for Marketing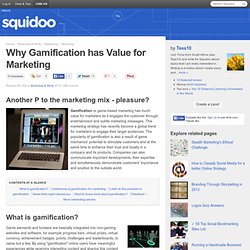 Gamification or game-based marketing has much value for marketers as it engages the customer through entertainment and subtle marketing messages. This marketing strategy has recently become a global trend for marketers to engage their target audiences.
Here's How Brands Are Building Mobile Websites That Actually Work
At the dawn of the third millennium, there aroseth a new generation of consumers, called Millennials, and the great and mighty brands looked upon this generation and did lust after their spending power greatly.
The 5 myths of marketing to Millennials (single page view)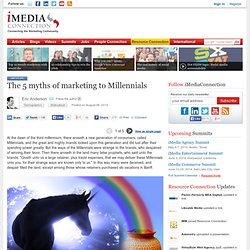 11 innovative movie marketing campaigns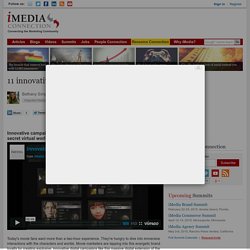 Today's movie fans want more than a two-hour experience. They're hungry to dive into immersive interactions with the characters and worlds. Movie marketers are tapping into this energetic brand loyalty by creating explosive, innovative digital campaigns like this massive digital extension of the blockbuster "The Hunger Games." As fans know, every year in the ruins of what was once North America, the evil Capitol of the nation of Panem forces each of its twelve districts to send a teenage boy and girl to compete in the Hunger Games. Fans went crazy for this story in book form (23.5 million copies in print), movie form ($673 million worldwide gross billings, to-date), and digitally. Here's the uber-cool, uber-realistic experience created by the movie's marketing team.
Mobile Future | Wireless Technologies | Mobile Innovation
Pyramid Research
ABI Research - Technology Market Research