Marketing
277 Free Resume Templates and Samples for Microsoft Word. Chronological, functional, and combination formats.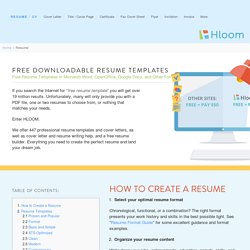 Traditional, modern, and creative designs. According to a large survey by Gallup published in 2013, analyzing answers from 230,000 full-time and part-time workers in 142 countries, only about 30% of employees worldwide are satisfied with their jobs. What's even worse, approximately 25% of people hate their jobs. That raises a very important question. How quitting my corporate job for my startup dream f*cked my life up — Everything About Entrepreneurship and Startups. Today.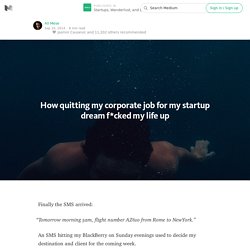 Enough with the drama: more than two years have passed since those days. I am now writing this blog post in a beautiful resort in Phuket, Thailand, while enjoying my mojito. The 12 Most Overused Business Buzzwords. Does anyone actually like business jargon, or is it just a bad habit?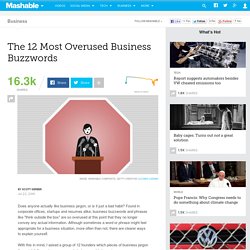 Found in corporate offices, startups and resumes alike, business buzzwords and phrases like "think outside the box" are so overused at this point that they no longer convey any actual information. Although sometimes a word or phrase might feel appropriate for a business situation, more often than not, there are clearer ways to explain yourself. With this in mind, I asked a group of 12 founders which pieces of business jargon they wish fellow entrepreneurs and startups would stop using.
Here are their top choices: 1. Hype Cycle Research Methodology. Interpreting Technology Hype When new technologies make bold promises, how do you discern the hype from what's commercially viable?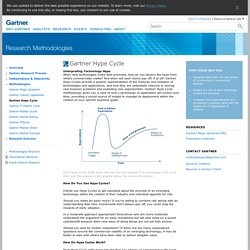 And when will such claims pay off, if at all? Gartner Hype Cycles provide a graphic representation of the maturity and adoption of technologies and applications, and how they are potentially relevant to solving real business problems and exploiting new opportunities. How To Create Unique Content! Why Marketers Just Can't Crack Mobile. While AT&T, the nation's second-largest mobile carrier, is venturing into car connectivity -- and bidding for DirecTV -- it mostly sells one thing: access to phones.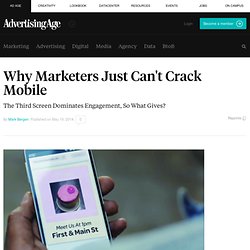 It is also the nation's fourth-largest advertiser, spending about $2 billion on media, according to Ad Age DataCenter. And where did it spend almost all of those dollars? Bye, Bye Banner: Emerging Display Formats & What Marketers Need To Know. A renaissance in digital display advertising is underway which will finally put an end to the tyranny of the banner.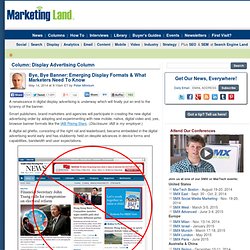 Smart publishers, brand marketers and agencies will participate in creating the new digital advertising order by adopting and experimenting with new mobile, native, digital video and, yes, browser banner formats like the IAB Rising Stars. (Disclosure: IAB is my employer.) A digital ad ghetto, consisting of the right rail and leaderboard, became embedded in the digital advertising world early and has stubbornly held on despite advances in device forms and capabilities, bandwidth and user expectations.
These lowest-common-denominator formats have been further supported by the advance of programmatic trading, which requires easily trafficked ads and, in fact, chokes on most advanced formats. It is deeply and sadly ironic that the best technological minds are being funded fanatically by venture capitalists in efforts supporting formats that are over a decade old. The you called brand. From the beginning, a brand's legal purpose has been to let people know the origin of the goods.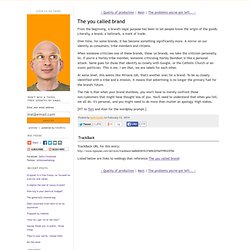 Literally, a brand, a hallmark, a mark of trade. Over time, for some brands, it has become something significantly more. A mirror on our identity as consumers, tribe members and citizens. When someone criticizes one of these brands, these 'us' brands, we take the criticism personally. So, if you're a Harley tribe member, someone criticizing Harley Davidson is like a personal attack. Storytelling in 2014. Digiday | Digital Content, Digital Advertising, Digital Marketing. The 5 Things Every (Great) Marketing Story Needs. Tom Fishburne: Marketoonist. How To CreateThe Best Retail Experience [PSFK SEATTLE] At last month's PSFK SEATTLE event, we invited some of the city's innovative people to discuss their latest projects and reveal the inspiration that lead to their creation.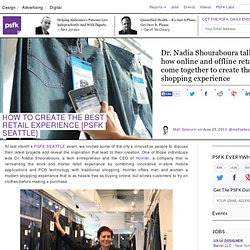 One of those individuals was Dr. Nadia Shouraboura, a tech entrepreneur and the CEO of Hointer, a company that is reinventing the brick and mortar retail experience by combining innovative in-store mobile applications and POS technology with traditional shopping. Hointer offers men and women a modern shopping experience that is as hassle free as buying online, but allows customers to try on clothes before making a purchase. Get Ready for a Journey: Customer Experience is Changing. The Drum | Modern Marketing & Media. Social Proof Meets Storytelling to Build an Awesome Brand. Conversion optimization is a discipline where art meets science — and the principle of social proof balances both.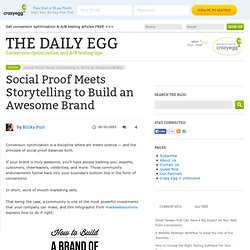 If your brand is truly awesome, you'll have people backing you: experts, customers, cheerleaders, celebrities, and more. Those community endorsements funnel back into your business's bottom line in the form of conversions. In short, word of mouth marketing sells. Marketing Land - Internet Marketing News, Strategies & Tips. Social@Ogilvy. This post first appeared on Fast Company By now, hopefully, we can all agree that we have collectively debunked the myth of manufactured "virality."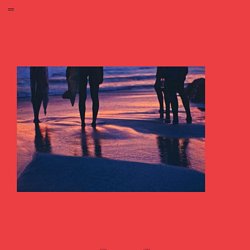 Most brands understand they cannot create the magical piece of content that actually helps their business and sparks an avalanche of sharing like Harlem Shake, Justin Bieber, and the latest contraption choreography from OK-Go. If you want to create the most shareable content that remains relevant to your brand–kittens, dance routines, and kicking someone in the junk isn't really for every business–then there are some clear principles to follow. These are born from behavioral economics, persuasion science, and plain old trial and error.
The Power of Visual Content and Brand Visuals in Action. Visual content is certainly trendy – see the meteoric rise in infographics and social engagement with images as proof. Yet the need for content that appeals on a visual level and presents information in a more engaging format than text goes far beyond what is cool or fun to create. In creating curriculum and learning materials for students (child to adult) and their teachers, I learned just how important visuals are in meeting the needs of different types of learners . The Evolution of PR - GroupHigh. The pivot to Asia - Counting the Cost. The United States has been making efforts to refocus its military, trade and economic ties with the part of the world that is actually still growing - Southeast Asia. But as ever it is not as simple as that because Barack Obama, the US president, has been touring Southeast Asian nations, trying to persuade them to join a trade-free agreement called the Trans-Pacific Partnership.
The catch is that the agreement excludes China. There is a bit of competition for the region's money - the US trade with ASEAN totalled $178bn in 2010 whereas Chinese trade with the region hit almost $300bn in 2011. But both sides have the ambition to push trade past $500bn by the year 2015. Why Social Media Marketing May Be Hurting, Rather Than Helping, Your Business. Because nearly everyone nowadays seems to have at least one social media account, many businesses have embraced social media as a way to connect with more people—customers and prospects—and to drive promotions. A poorly managed business social media campaign, however, can easily backfire if the right measures are not put in place by key people in your organization. Social media is in real time, and something can go wrong in only a millisecond.
Click, click, click, click. Zynga and the gamification of clicking « G|A|M|E. Although the era of the social network game officially began with the launch of the Facebook Platform in 2007, it wasn't until 2009 that social network games began to attract the spotlight of mainstream media with the runaway successes of several games.
Not surprisingly, since that moment the online gaming industry has been fully occupied with discerning and attempting to replicate the elements that have made those Facebook games fruitful. Both academics and industry members have engaged in a hearty amount of discussion and speculation as to the reasons for the success seen by social network gaming, watching the evolution of the genre as companies have both emerged and retreated from the industry.Despite the large number of games appearing on Facebook by a variety of publishers and developers almost none have come close to meeting or bypassing the initial pace set by game developer Zynga.
Why Gamification has Value for Marketing. Gamification could be a beneficial complementary tool to traditional, online and social media marketing strategies. It especially can be very useful for relationship marketing where consumers are to be retained in the long-term by gaining their trust. Research has shown that consumers, who have meaningful interactions with a company, tend to become loyal towards that company. Various gamification techniques exist such as, for example, creating own pages on Foursquare where brand badges can be earned by consumers. Specific actions of registered consumers can also be rewarded through point systems and challenges that are built into a company's website. Interestingly Gartner Research (2011) predicts that by 2014, "a gamified service for consumer goods marketing and customer retention will become as important as Facebook, eBay or Amazon, and more than 70 percent of Global 2000 organizations will have at least one gamified application".
Here's How Brands Are Building Mobile Websites That Actually Work. The 5 myths of marketing to Millennials (single page view) 11 innovative movie marketing campaigns. Mobile Marketer - The news leader in mobile marketing, media and commerce. Business Insider. PSFK - the go-to source for new ideas and inspiration. Mobile Future | Wireless Technologies | Mobile Innovation.
Pyramid Research. Faith Popcorn's BrainReserve. Adformatie - reclame, marketing en media. Advertising, media, marketing and PR news & jobs - Brand Republic. ABI Research - Technology Market Research. Trendwatching.com: Consumer trends and insights from around the world. Frankwatching. Marketingfacts · Hét platform voor interactieve marketing.
Bodycard 0202
---