Marketing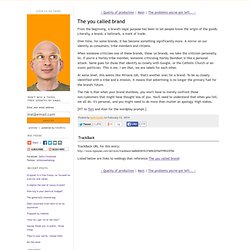 From the beginning, a brand's legal purpose has been to let people know the origin of the goods. Literally, a brand, a hallmark, a mark of trade. Over time, for some brands, it has become something significantly more. A mirror on our identity as consumers, tribe members and citizens. When someone criticizes one of these brands, these 'us' brands, we take the criticism personally. So, if you're a Harley tribe member, someone criticizing Harley Davidson is like a personal attack.
The you called brand
Storytelling in 2014
The 5 Things Every (Great) Marketing Story Needs
March 30th, 2014 • The meeting after the meeting sometimes has more impact that the meeting itself. In many organizations, that's where people share their real opinions and where the real decisions are made. A team might agree around the conference table, but then express doubts in the "safer" environment of the hallway or coffee shop. It's a passive aggressive way to squash ideas, [...] Read the rest...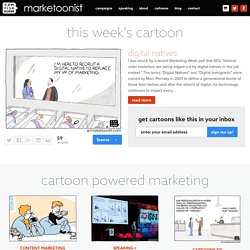 At last month's PSFK SEATTLE event, we invited some of the city's innovative people to discuss their latest projects and reveal the inspiration that lead to their creation. One of those individuals was Dr. Nadia Shouraboura, a tech entrepreneur and the CEO of Hointer, a company that is reinventing the brick and mortar retail experience by combining innovative in-store mobile applications and POS technology with traditional shopping. Hointer offers men and women a modern shopping experience that is as hassle free as buying online, but allows customers to try on clothes before making a purchase.
How To CreateThe Best Retail Experience [PSFK SEATTLE]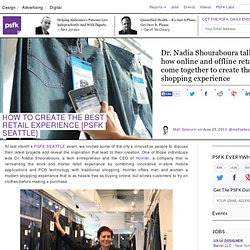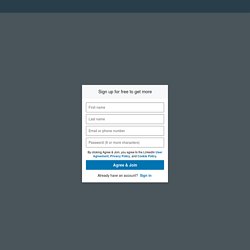 This is a post about going from good to best. Plenty of companies have gotten the message that customer experience matters. As more companies focus on the customer, they're looking at how to improve customer satisfaction scores. As a customer, that's great.
Get Ready for a Journey: Customer Experience is Changing
Social Proof Meets Storytelling to Build an Awesome Brand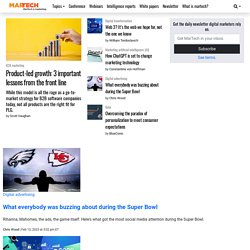 Creative Of The Day - Steve Hall Wieden + Kennedy Amsterdam is out with a new campaign for Heineken which focuses on 40 legendary individuals from the worlds of sports, entertainment, science, art and other areas. Entitled "The Legendary Posters," the campaign features these 40 people doing interesting and amazing things in support of the global non-profit Reporters Without Borders. The posters […] Read more |
Social@Ogilvy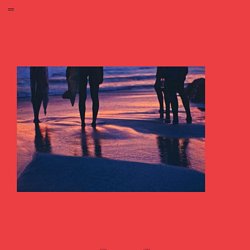 This post first appeared on Fast Company By now, hopefully, we can all agree that we have collectively debunked the myth of manufactured "virality." Most brands understand they cannot create the magical piece of content that actually helps their business and sparks an avalanche of sharing like Harlem Shake, Justin Bieber, and the latest contraption choreography from OK-Go. If you want to create the most shareable content that remains relevant to your brand–kittens, dance routines, and kicking someone in the junk isn't really for every business–then there are some clear principles to follow. These are born from behavioral economics, persuasion science, and plain old trial and error.
The Power of Visual Content and Brand Visuals in Action
Visual content is certainly trendy – see the meteoric rise in infographics and social engagement with images as proof. Yet the need for content that appeals on a visual level and presents information in a more engaging format than text goes far beyond what is cool or fun to create. In creating curriculum and learning materials for students (child to adult) and their teachers, I learned just how important visuals are in meeting the needs of different types of learners .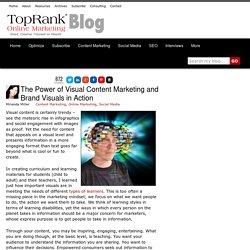 The Evolution of PR - GroupHigh
The United States has been making efforts to refocus its military, trade and economic ties with the part of the world that is actually still growing - Southeast Asia. But as ever it is not as simple as that because Barack Obama, the US president, has been touring Southeast Asian nations, trying to persuade them to join a trade-free agreement called the Trans-Pacific Partnership. The catch is that the agreement excludes China. There is a bit of competition for the region's money - the US trade with ASEAN totalled $178bn in 2010 whereas Chinese trade with the region hit almost $300bn in 2011. But both sides have the ambition to push trade past $500bn by the year 2015.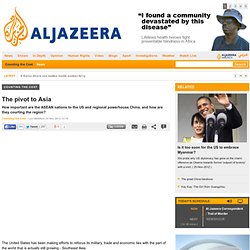 The pivot to Asia - Counting the Cost
Why Social Media Marketing May Be Hurting, Rather Than Helping, Your Business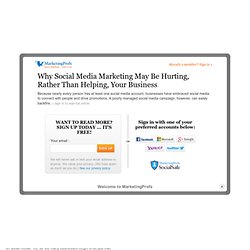 Because nearly everyone nowadays seems to have at least one social media account, many businesses have embraced social media as a way to connect with more people—customers and prospects—and to drive promotions. A poorly managed business social media campaign, however, can easily backfire if the right measures are not put in place by key people in your organization. Social media is in real time, and something can go wrong in only a millisecond.
Click, click, click, click. Zynga and the gamification of clicking « G|A|M|E
Although the era of the social network game officially began with the launch of the Facebook Platform in 2007, it wasn't until 2009 that social network games began to attract the spotlight of mainstream media with the runaway successes of several games. Not surprisingly, since that moment the online gaming industry has been fully occupied with discerning and attempting to replicate the elements that have made those Facebook games fruitful. Both academics and industry members have engaged in a hearty amount of discussion and speculation as to the reasons for the success seen by social network gaming, watching the evolution of the genre as companies have both emerged and retreated from the industry.Despite the large number of games appearing on Facebook by a variety of publishers and developers almost none have come close to meeting or bypassing the initial pace set by game developer Zynga.
Why Gamification has Value for Marketing
Gamification could be a beneficial complementary tool to traditional, online and social media marketing strategies. It especially can be very useful for relationship marketing where consumers are to be retained in the long-term by gaining their trust. Research has shown that consumers, who have meaningful interactions with a company, tend to become loyal towards that company. Various gamification techniques exist such as, for example, creating own pages on Foursquare where brand badges can be earned by consumers. Specific actions of registered consumers can also be rewarded through point systems and challenges that are built into a company's website. Interestingly Gartner Research (2011) predicts that by 2014, "a gamified service for consumer goods marketing and customer retention will become as important as Facebook, eBay or Amazon, and more than 70 percent of Global 2000 organizations will have at least one gamified application".
Here's How Brands Are Building Mobile Websites That Actually Work
Depending on a brand's geography, audience demographics and other behavior patterns, mobile access to the company website has either outstripped access through the PC web browser or will soon. While most consumer-facing brands understand that mobile access to the company is imperative to business, the decision of which 'mobile' strategy to adopt remains a complex decision. The options come down to this: creating a dedicated mobile website, making the existing website more mobile-friendly, developing a native mobile app, or a hybrid of any or all of the above. Many consider the Boston Globe to be the poster child of responsive design, but that's in part because the user of the website is there to read the newspaper. Optimizing that experience is all about making it easier to read the text, so a responsive website design that changes depending on the screen is ideal.
At the dawn of the third millennium, there aroseth a new generation of consumers, called Millennials, and the great and mighty brands looked upon this generation and did lust after their spending power greatly. But the ways of the Millennials were strange to the brands, who despaired of winning their favor. Then there aroseth in the land many false prophets, who said unto the brands, "Giveth unto us a large retainer, plus travel expenses, that we may deliver these Millennials unto you, for their strange ways are known only to us." In this way many were deceived, and despair filled the land, except among those whose retainers purchased ski vacations in Banff.
The 5 myths of marketing to Millennials (single page view)
11 innovative movie marketing campaigns
Mobile Future | Wireless Technologies | Mobile Innovation
Pyramid Research
ABI Research - Technology Market Research