Content Marketing
Pero, ¿te pagan por eso? La construcción y desarrollo de una Marca Personal se basa en realizar las acciones que uno mismo, previa investigación, se haya marcado en su estrategia para alcanzar los objetivos deseados.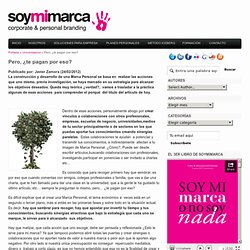 Queda muy teórico ¿verdad? , vamos a trasladar a la práctica algunas de esas acciones para comprender el porqué del título del artículo de hoy. Dentro de esas acciones, personalmente abogo por crear vínculos o colaboraciones con otros profesionales, empresas, escuelas de negocio, universidades,medios de tu sector principalmente o de sectores en los que puedas aportar tus conocimientos creando sinergias paralelas. Estas colaboraciones te ayudan a potenciar y transmitir tus conocimientos, e indirectamente afectan a tu imagen de Marca Personal.
The 5 Types of Content That Grab Attention. Why User-Generated Content Is More Important Than You Think. A certain group of consumers has been gaining attention from marketers recently, because of the strong role they play in the purchasing decision; these power purchasers are known as Generation Y.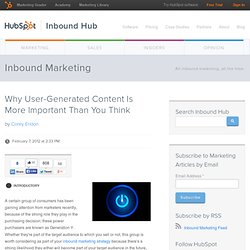 Whether they're part of the target audience to which you sell or not, this group is worth considering as part of your inbound marketing strategy because there's a strong likelihood they either will become part of your target audience in the future, or because they already influence your target audience now. Let's break down who these power purchasers are, some of the interesting demographics and inclinations research has uncovered about their role in the buying process, and see how we can align our marketing strategy to better leverage their influence. Generation Y as a Power Purchaser Also known as Millennials, this group refers to those born between 1977 and 1994, and it accounts for 25% of the US population.
CurationSoft Review: Creating Content Has Never Been Easier. Everything is good.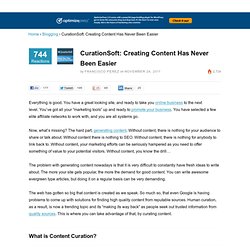 You have a great looking site, and ready to take you online business to the next level. You've got all your "marketing tools" up and ready to promote your business. What are 10 Addictive Types of Content? Are you having problems driving traffic to your blog?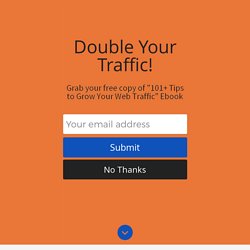 Are you finding that no one is retweeting your content or sharing it on Facebook? When starting a blog the challenge for any blogger is providing content that will entice and delight your readers. You want them looking forward to your next article.
---