Public Domain
Public domain books and other writings - what can you do with them? When a book (or any written work) enters the public domain, you can copy and use it without getting permission or paying fees.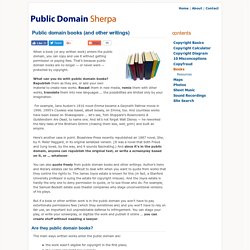 That's because public domain books are no longer — or never were — protected by copyright. What can you do with public domain books? Republish them as they are, or add your own material to create new works. Why Aren't You Using More Public Domain Characters? Last month, Robert Smedley took us through the interesting world of copyright and public domain.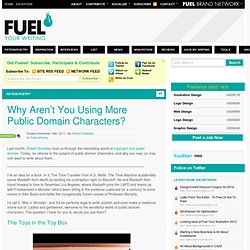 Today, he returns to the subject of public domain characters, and why you may (or may not) want to write about them… I've an idea for a book. In it, The Time Traveller from H.G. Wells' The Time Machine accidentally saves Macbeth from death by landing his contraption right on Macduff. He and Macbeth then travel forward in time to Seventies Los Angeles, where Macbeth joins the LAPD and teams up with Frankenstein's Monster (who's been sitting in the evidence cupboard for a century) to solve crimes in their Buick and battle the cryogenically frozen corpse of Professor Moriarty.
---