Editeurs
Designer Wallcovering Collections, Stylish Wallpapers - Romo
Papiers peints. Fonds d'écran moderne - dedar - Milano - Revêtements muraux
Home | Studio ditte
Going from pencil to print in our North Norfolk studio and printworks, The Art of Wallpaper creates bespoke wallpaper and fabrics designed by some of Britain's leading artists and designers. We produce and stock an everyday off the shelf collection, along with limited edition signature print runs. Our designer wallpapers and fabrics are made by us using traditional printing methods. With our experience, skill and commitment to detail throughout the production process we produce high quality goods which we are proud to deliver and call British. Our wallpapers and fabrics are available online direct from us or through selected interior designers and retailers across the UK and Europe.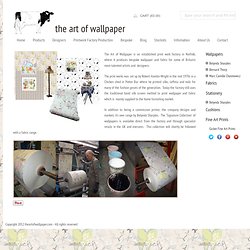 The Art of Wallpaper
Deborah Bowness - hand printed wallpapers
Papier peint Fusion - L'éditeur
This page (together with the documents referred to on it) tells you the terms of use on which you may make use of our website www.cole-and-son.com (our site), whether as a guest or a registered user. Please read these terms of use carefully before you start to use the site. By using our site, you indicate that you accept these terms of use and that you agree to abide by them. If you do not agree to these terms of use, please refrain from using our site. Information about uswww.cole-and-son.com is a site operated by Cole & Son (Wallpapers) Limited ("We").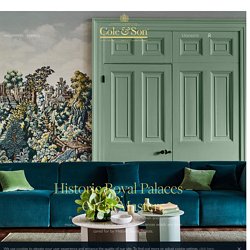 Papier peint Vintage
Pierre Frey
Walldecoration Lene Toni Kjeld
saint honore wall covering
All of our wallpapers are shipped untrimmed and unpasted. To place a wallpaper order, order samples by phone, or for any questions you may have, call us at 707.746.1900, 9 a.m. - 5 p.m. PST, Monday - Friday. Bring to life the architectural styles of the 1880s through 1960s with Bradbury & Bradbury Art Wallpapers in historic Victorian, Arts & Crafts and Modernism designs. Renovate or restore the interior of your Victorian Lady with a selection from one of our Victorian wallpapers that reflect the designs of William Morris, Walter Crane, Christopher Dresser, the Herter Brothers, B.J. Talbert and represent Victorian styles from Anglo-Japanese to the British Aesthetic Movement to Classicism.
Bradbury & Bradbury Art Wallpapers | Historic Wallpapers | Victorian, Arts & Crafts, Art Deco, Damask, '40s, '50s and '60s Wallcoverings