MacOS in Virtualbox
Snow Leopard 10.6.2 Intel AMD by Hazard is a famous hackintosh distribution available on internet. It was almost tweaked for Intel and AMD physical computers with most of the famous chipsets. The good thing is, it works well on Oracle VirtualBox without any third party boot loaders or editing configuration files. But the main issue is, this can't be updated to latest Mac OS X versions because of its running in hacked kernel which can't be upgraded. This guide is showing how to update Snow Leopard 10.6.2 Intel AMD by Hazard to 10.6.7 latest update on VMware or VirtualBox. I'm not only showing the way of update, but also the few and important points you must consider to install Snow Leopard 10.6.7 Intel AMD by Hazard on VirtualBox and VMware.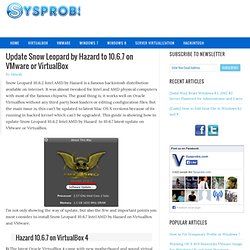 Update Snow Leopard by Hazard to 10.6.7 on VMware or VirtualBox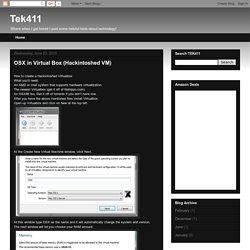 OSX in Virtual Box
How to create a Hackintoshed Virtualbox What you'll need. An AMD or Intel system that supports hardware virtualization. The newest Virtualbox (get it off of filehippo.com). An OSX86 iso, Get it off of torrents if you don't have one. After you have the above mentioned files install Virtualbox. Open up Virtualbox and click on New at the top left.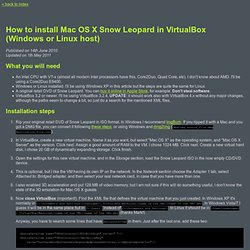 Published on 14th June 2010Updated on 1th May 2011 What you will need An Intel CPU with VT-x (almost all modern Intel processors have this, Core2Duo, Quad Core, etc). I don't know about AMD.
How to install Mac OS X Snow Leopard in VirtualBox (Windows or Linux host)
Snow Leopard 10.6.1-10.6.2 Intel AMD made by Hazard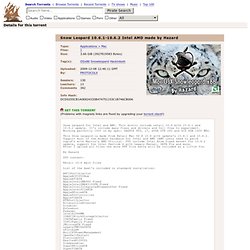 Snow Leopard 10.6.1-10.6.2 Intel AMD made by Hazard Type: Applications > Mac Files: Size: 3.66 GiB (3927819583 Bytes)
Setting up Leopard (OS X 10.5) to share files with a PC running Windows XP is a fairly straightforward process, but like any networking task, it's helpful to understand how the underlying process works. Beginning with Leopard, Apple reconfigured the way Windows file sharing is set up. Instead of having separate Mac file sharing and Windows file sharing control panels, Apple placed all file sharing processes in one system preference, making it easy to set up and configure file sharing. In 'File Sharing With OS X 10.5 - Share Mac Files with Windows XP' we will take you through the entire process of configuring your Mac to share files with a PC. We'll also describe some of the basic issues you may encounter along the way. What You Will Need
File Sharing With OS X 10.5 - Share Mac Files with Windows XP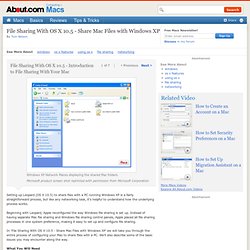 @soldstatic: If you are serious about VMware and run guests all the time, you might do better by installing the free ESXi version on the bare hardware and run all of your systems as guests. The main downside is that you don't get any local console access to the guests - you always have to use the windows client app for that. @soldstatic: The issue with VMware Server is the lack of updates/patches for a few years.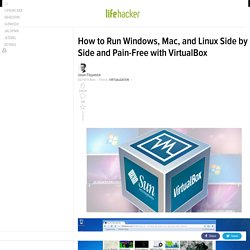 How to Run Windows, Mac, and Linux Side by Side and Pain-Free with VirtualBox