Mac and co
Les tablettes
Iphone & ipad apps. Oh My God, There Are Muji iPad Apps. MacOS Lion. The iPad Orchestra. News Desk: Jason Schwartzman Introduces The New Yorker iPad App. Making Future Magic: iPad light painting.
Mac Rumors. Mac and Apple News, Tips, Help and Reviews. Engadget. TUAW -- The Unofficial Apple Weblog. AppleInsider | Apple Insider News and Analysis. AdFreak: Apple Get a Mac: The Complete Campaign.
CAP News | Apple iSlate Expected To Cause Spontaneous Orgasms | Apple. Light Finder App. Apple, Adobe, and Flash. Monday, 25 January 2010 In my "Tablet Musings" piece two weeks ago, I speculated that Apple's imminent tablet probably won't support Flash, for all the same reasons the iPhone doesn't.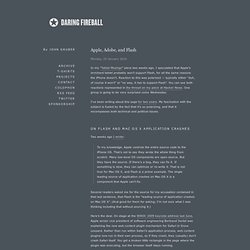 Reaction to this was polarized — typically either "duh, of course it won't" or "no way, it has to support Flash". You can see both reactions represented in the thread on my piece at Hacker News. Chinese iPad clone released. Without stealing Apple's hard needed thunder, we'd like to point out that a Chinese hardware manufacturer made an iPad clone three months ago.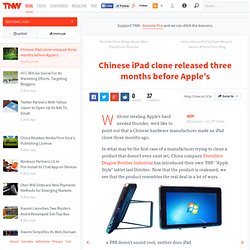 In what may be the first case of a manufacturer trying to clone a product that doesn't even exist yet, China company Shenzhen Dragon Brother Industrial has introduced their own 'P88′ "Apple Style" tablet last October. Now that the product is realeased, we see that the product resembles the real deal in a lot of ways. Will It Blend? - iPad. A 2.5 Year-Old Has A First Encounter with An iPad. Iggy investigates an ipad. We are removing Flash support f. This is an important new change.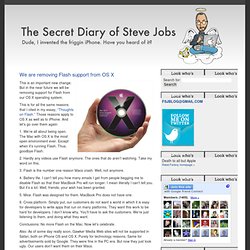 But in the near future we will be removing support for Flash from our OS X operating system. This is for all the same reasons that I cited in my essay, "Thoughts on Flash." Those reasons apply to OS X as well as to iPhone. And let's go over them again: iPad Usability: First Findings From User Testing (Jakob Nielsen' Video: Game based on the awesomely NSFW "Truckers Delight" film- You may or may not have seen the totally ridiculous, totally NSFW, 8-bit brilliance that is the film-clip for Flairs' Trucker's Delight (note: if 8-bit boobs, poop or misogynistic truckers offend, don't click that link.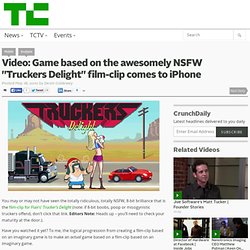 Editors Note: Heads up – you'll need to check your maturity at the door.). Have you watched it yet? To me, the logical progression from creating a film-clip based on an imaginary game is to make an actual game based on a film-clip based on an imaginary game. And so I present to you, the first episode of Truckers Delight for iPhone and iPod Touch. For the merest of $2.99 at the App Store, you can chase after blondes (and their well-groomed poodles), take down rival bikies, and steer 16-wheels of pain with flagrant disregard for all those "road rules" that The Man keeps sticking us truckies* with. L'iPhoneographe — L'iPhone, un appareil photo pas si ordinaire. Test de l'iPad par les enfants de l'agence Nealite | FrenchWeb.f. Ok l'iPad est un bijou de technologie, les geeks l'adorent déjà, les chats aussi, et il s'est vendu plus de 1 million de tablettes en un mois aux US.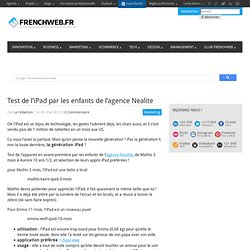 Ca vous l'avez lu partout. Mais qu'en pense la nouvelle génération ? The Medium - The Death of the Open Web. People who find the Web distasteful — ugly, uncivilized — have nonetheless been forced to live there: it's the place to go for jobs, resources, services, social life, the future.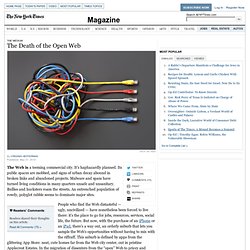 But now, with the purchase of an or an , there's a way out, an orderly suburb that lets you sample the Web's opportunities without having to mix with the riffraff. This suburb is defined by apps from the glittering App Store: neat, cute homes far from the Web city center, out in pristine Applecrest Estates. In the migration of dissenters from the "open" Web to pricey and secluded apps, we're witnessing urban decentralization, suburbanization and the online equivalent of white flight. The parallels between what happened to cities like Chicago, Detroit and New York in the 20th century and what's happening on the Internet since the introduction of the App Store are striking. La boutique contre le bazar.
Imaginons le web comme une ville.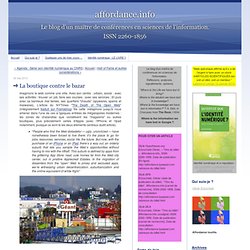 Avec son centre : urbain, social ; avec ses activités : trouver un job, faire ses courses ; avec ses services ; Et puis avec sa banlieue mal famée, ses quartiers "chauds" (spywares, spams et malwares). L'article du NYTimes "The Death of The Open Web" (intégralement traduit sur Framablog) file cette métaphore jusqu'à nous amener dans l'une de ces si typiques entrées de mégalopoles modernes : les zones de chalandise que constituent les "magasins" ou autres boutiques, plus précisément celles d'Apple (avec l'IPhone et l'Ipad notamment, puisque ce sont là les deux éléments centraux dudit article). iA » Designing for iPad: Reality Check. By Oliver Reichenstein Over the last two months we have been working on several iPad projects: two news applications, a social network, and a word processor.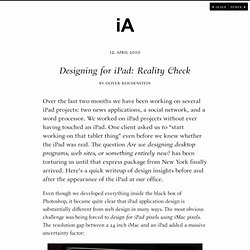 We worked on iPad projects without ever having touched an iPad. One client asked us to "start working on that tablet thing" even before we knew whether the iPad was real. The question Are we designing desktop programs, web sites, or something entirely new? Freedom From Porn. Excellent. Les super-héros, vus par #Apple et #Android. :') on T.
Useful for firefox
Leica Look-Alike Skin for the iPhone 4 - PetaPixel Store. Cart Sign in or Create an account Leica Look-Alike Skin for the iPhone 4/4S Price This highly detailed plastic skin is designed to protect your iPhone 4/4S while making it look just like a Leica rangefinder camera.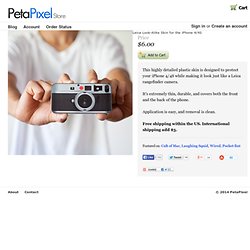 It's extremely thin, durable, and covers both the front and the back of the phone.
---
nicolas Apr 17 2010

lol le "will it blend" est très bon !
---