Diy
Les bases du tricot Les conseils tricot Phildar, points de tricot, apprendre à tricoter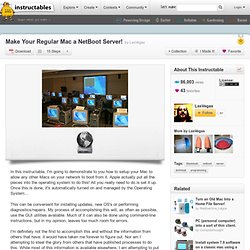 In this instructable, I'm going to demonstrate to you how to setup your Mac to allow any other Macs on your network to boot from it. Apple actually put all the pieces into the operating system to do this! All you really need to do is set it up. Once this is done, it's automatically turned on and managed by the Operating System... This can be convenient for installing updates, new OS's or performing diagnostics/repairs. My process of accomplishing this will, as often as possible, use the GUI utilities available.
Make Your Regular Mac a NetBoot Server!
Eight most useful knots
Do it Yourself .mac v2
How I created my own .mac replacement 2005.07.11 - v2 by Matt Simerson version 1 available here Version 2 is updated for use with Mac OS X 10.4 (Tiger).