iPhone
Of all forms of literature, however, the essay is the one which least calls for the use of long words. The principle which controls it is simply that it should give pleasure; the desire which impels us when we take it from the shelf is simply to receive pleasure. Everything in an essay must be subdued to that end. It should lay us under a spell with its first word, and we should only wake, refreshed, with its last.
Connexion
Bienvenue sur Facebook | Facebook
Retrouvez Le Monde.fr sur votre iPhone !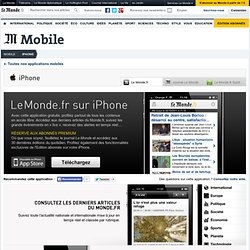 Avec cette application gratuite, profitez partout de tous les contenusen accés libre. Accédez aux derniers articles du Monde.fr, suivez les grands événements en « live », recevez des alertes en temps réel.... réservé aux abonnés premium Où que vous soyez, feuilletez le journal Le Monde et accédez aux 30 dernières éditions du quotidien. Profitez également des fonctionnalités exclusives de l'Edition abonnés sur votre iPhone. AppStoreTéléchargez Suivez toute l'actualité nationale et internationale mise à jour en temps réel et classée par rubrique. En cas d'événement, vivez les « live » et commentez en direct avec la rédaction du Monde.fr et les experts invités.