Lumière Light art
Thierry Dreyfus
Untitled Document
20.03.2014 Déposez votre projet pour la Fête des Lumières 2014 ! L'appel d'offres pour la programmation artistique de la prochaine Fête des Lumières est lancé ! Lire la suite 03.03.2014 1ère édition d'un festival lumière à Dubaï Cet événement permet à Lyon de rayonner au coeur de cette ville dynamique et cosmopolite. Lire la suite 11.12.2013 C'était la Fête des Lumières 2013...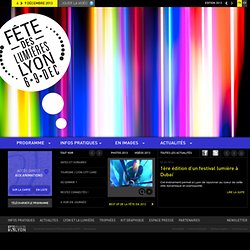 Festival Arbres & Lumières | Genève
Sophie Guyot
« En se promenant dans une installation de Wela on se croit dans un romain de Gogol tant l'irréalité est réelle ! Il ne s'agit pas d'un quelconque procédé technique susceptible de nous tromper, mais d'une réalisation plastique simplement ingénieuse. » Ileana Cornea, Critique d'Art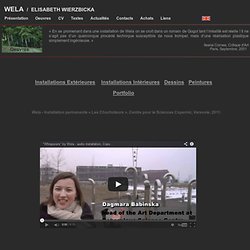 Wela - Installations lumineuses
TILT designs and creates lighting for stages, luminous sets for events and performances, offers permanent installations for cultural centers (museums, contemporary arts exhibition,…) and installations for artistic events such as the "Fête des Lumières" in Lyon, White Nights in Paris, Bilbao or Amiens, Lights and Trees Festival in Geneva, Glow Festival in Eindhoven… The specificity of TILT is to develop the two fundamental features of lighting design: creating luminous elements, and, through a reflexive staging of these elements, creating site-adapted illuminated universes. The installation will enrich and complete the light sculptures in a subtle relationship and blur the borders between indoor and outdoor, nature and urban. Beyond the search for innovation in design and technology, their light sculptures, enhanced by an oneiric and original vision, reveal elements of the everyday life and offer surprising luminous creations.
Tilt
Entre 1920 et 1950, l'électricité arrive partout, les populations, les industries cherchent à s'équiper en appareils électriques, le luminaire à une place particulière puisque indispensable. Il a fallu alors inventer un nouveau type d'éclairage répondant aux normes de cette époque : performant, robuste, fiable et adapter aux conditions de travail ou de vie. Se sont donc des ingénieurs qui s'y attellent comme par exemple B.A Gras, J-L Domecq, G Cardwin, C. Fischer, C. Dell et beaucoup d'autres, ils sont devenus aujourd'hui de grands noms du design, pour la plupart désormais copiés par tous les fabricants de luminaires d'aujourd'hui.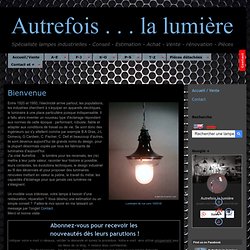 autrefois-la-lumiere-industrielle.blogspot