Lulzsec
LulzSec: Hacker group reborn, exposes 171,000 military accounts. The hacker group known as LulzSec appears to be back after many months of laying low, claiming to have exposed the accounts of nearly 171,000 members of the military.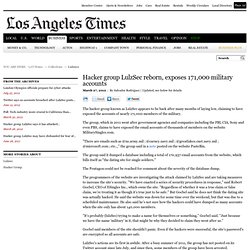 The group, which in 2011 went after government agencies and companies including the FBI, CIA, Sony and even PBS, claims to have exposed the email accounts of thousands of members on the website MilitarySingles.com. "There are emails such as @us.army.mil ; @carney.navy.mil ; @greatlakes.cnet.navy.mil ; @microsoft.com ; etc.. ," the group said in a note posted on the website PasteBin. The group said it dumped a database including a total of 170,937 email accounts from the website, which bills itself as "the dating site for single soldiers. " LulzSec IRC leak: the full record | Technology. **** BEGIN LOGGING AT Tue May 31 11:09:12 2011 **** ENDING LOGGING AT Tue May 31 11:09:55 2011 **** BEGIN LOGGING AT Tue May 31 11:09:55 2011.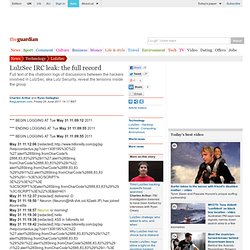 Sabu, the erstwhile leader of the Lulzsec hacking crew, says he is effectively on the run as he gives interview to Reddit readers about LulzSec's achievements, Facebook, sentencing and more : worldnews. AMA Request Sabu from LuLSec this would be amazing : IAmA. Lulzsec hacker: we still have Sun emails, stored in China' | Technology. The hacker who styles himself "Sabu", erstwhile leader of the LulzSec hacking crew, claims to have a cache of emails copied from the Sun which are being stored on a Chinese server, along with data from a number of other hacks.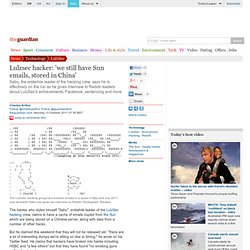 But he claimed this weekend that they will not be released yet: "there are a lot of interesting dumps we're sitting on due to timing," he wrote on his Twitter feed. He claims that hackers have broken into banks including HSBC and "a few others" but that they have found "no smoking guns yet" in the data there. "I'm past the point of no return. Not trying to sound like a bad ass, however, it's the truth," he wrote. Later he added: "The ironic twist will be that my own friends will take me down, and not these idiots who hide behind the patriot veil.
" LulzSec Hacker Says He's Never Felt Safer | Threat Level. He's part of a group that claims to be behind the recent hack attacks against the CIA, U.S.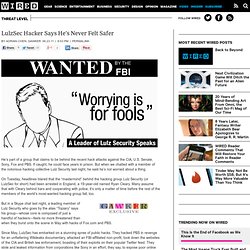 Senate, Sony, Fox and PBS. If caught, he could face years in prison. But when we chatted with a member of the notorious hacking collective Lulz Security last night, he said he's not worried about a thing. LulzSec, l'ascension éclair d'un groupe de pirates informatiques. Le Monde.fr | • Mis à jour le | Par Damien Leloup La police de l'Arizona, la CIA, Sony, le Sénat américain, Nintendo, la chaîne de télévision PBS, le réseau de télévision Fox, le site pornographique Pron.com, l'émission "X Factor", la police britannique, l'éditeur de jeux vidéo Bethesda...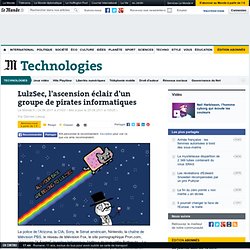 La liste des victimes d'attaques informatiques revendiquées par Lulz Security, un groupe de pirates informatiques, est longue. Mais surtout, l'ensemble de ces attaques ont eu lieu dans un délai très court : inconnu il y a encore deux mois, Lulzsec – "lulz" étant une déformation de l'acronyme anglais pour "mort de rire" – s'est taillé en quelques semaines à peine une renommée internationale. Les pirates informatiques de LulzSec annoncent leur démantèlement. Le groupe de pirates informatiques LulzSec a annoncé samedi soir la fin de ses activités, en revendiquant une campagne de 50 jours ayant mis au grand jour la vulnérabilité des systèmes de plusieurs organismes gouvernementaux et privés, y compris de la CIA et de la police britannique.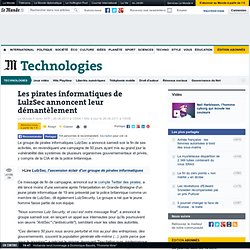 >Lire LulzSec, l'ascension éclair d'un groupe de pirates informatiques Ce message de fin de campagne, annoncé sur le compte Twitter des pirates, a été lancé moins d'une semaine après l'interpellation en Grande-Bretagne d'un jeune pirate informatique de 19 ans présenté par la police britannique comme un membre de LulzSec, dit également LulzSecurity. Le groupe a nié que le jeune homme fasse partie de son équipe.
"Nous sommes Lulz Security, et ceci est notre message final", a annoncé le groupe samedi soir, en lançant un appel aux internautes pour qu'ils poursuivent son œuvre "AntiSec" ("antisécurité"), semblant viser les sites des autorités. LulzSec Hacks. Overview Lulzsec Hacks refers to a series of high profile cyber-attacks carried out by the computer hacking group Lulzsec (Lulz Security) beginning in May 2011.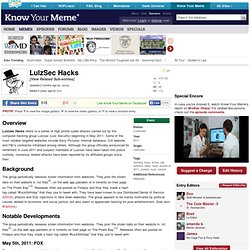 Some of the most notable targeted websites include Sony Pictures' internal database, CIA website and FBI's contractor InfraGard among others. Although the group officially announced its retirement in June 2011 and suspect members of Lulzsec have been taken into police custody, numerous related attacks have been reported by its affiliated groups since then.
(1) Is it legal to download classified documents released by WikiLeaks or LulzSec. Lulzsec in the media. Reactions to Lulzsec. Lulz Security® releases. Op #Antisec. VS NATO. VS american authorities. Teaming up with Anonymous. FBI hack. CIA hacks. Lulzsec Vs Arizona Police. PBS hack. Wikileaks. Sownage.
Understanding Lulzsec. Looking back at the Rampage. False flags? Arrest of some Lulzec Hackers ?
Tweets. The End. The Return. The Sun leak. La mutation du groupe de pirates LulzSec après sa dissolution. Après avoir annoncé, samedi 25 juin, sa dissolution après "50 jours de 'lulz' [amusement]", le groupe de pirates informatiques LulzSec n'a pas pour autant entièrement disparu.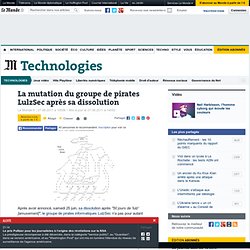 Il a ainsi incité ses admirateurs à poursuivre les attaques et piratages débutés ces derniers jours au sein de "l'opération Antisec", une campagne visant les forces de police et les gouvernements du monde entier. Après avoir bloqué plusieurs sites des forces de l'ordre américaines ou britanniques, le groupe avait publié, vendredi, des documents volés sur un serveur de la police de l'Arizona. Après avoir annoncé sa dissolution, LulzSec a demandé aux followers de son compte Twitter - suivi par près de 300 000 personnes - de rejoindre un compte lié au mouvement Anonymous, un collectif de cyberactivistes qui a gagné plusieurs dizaines de milliers de followers en quelques heures. Google is Your Friend - If You're a Lulzer. While the digital paparazzi were lined up waiting to snap photos of the Lulzboat crew getting vanned, some of us focused on how this collection of low tech script kiddies were able to knock over SONY, AT&T, the CIA, Arizona's DPS and numerous other sites and make off with highly confidential contents again and again.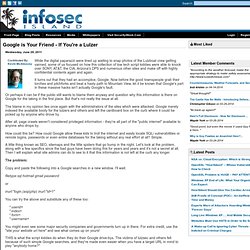 It turns out that they had an accomplice, Google. Now before the good townspeople grab their torches and pitchforks and beat a hasty path to Mountain View, let it be known that Google's part in these massive hacks isn't actually Google's fault. Or perhaps it can be if the public still wants to blame them anyway and question why this information is there on Google for the taking in the first place.
---
alphinux Jun 27 2011

Cool, hey you know what's missing? Like a site with all their tweets from the Lulziest to the less lulziest.

p45c4l Jun 19 2011

hello, on ne sera pas de trop à 2!!!
---