Lulzsec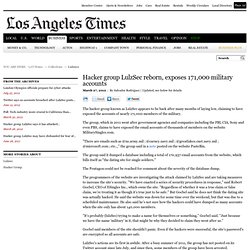 The hacker group known as LulzSec appears to be back after many months of laying low, claiming to have exposed the accounts of nearly 171,000 members of the military.
LulzSec: Hacker group reborn, exposes 171,000 military accounts
**** BEGIN LOGGING AT Tue May 31 11:09:12 2011 **** ENDING LOGGING AT Tue May 31 11:09:55 2011 **** BEGIN LOGGING AT Tue May 31 11:09:55 2011
LulzSec IRC leak: the full record | Technology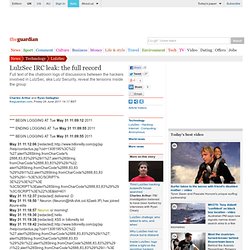 Sabu, the erstwhile leader of the Lulzsec hacking crew, says he is effectively on the run as he gives interview to Reddit readers about LulzSec's achievements, Facebook, sentencing and more : worldnews
AMA Request Sabu from LuLSec this would be amazing : IAmA
Lulzsec hacker: we still have Sun emails, stored in China' | Technology
The hacker who styles himself "Sabu", erstwhile leader of the LulzSec hacking crew, claims to have a cache of emails copied from the Sun which are being stored on a Chinese server, along with data from a number of other hacks. But he claimed this weekend that they will not be released yet: "there are a lot of interesting dumps we're sitting on due to timing," he wrote on his Twitter feed. He claims that hackers have broken into banks including HSBC and "a few others" but that they have found "no smoking guns yet" in the data there. "I'm past the point of no return. Not trying to sound like a bad ass, however, it's the truth," he wrote. Later he added: "The ironic twist will be that my own friends will take me down, and not these idiots who hide behind the patriot veil."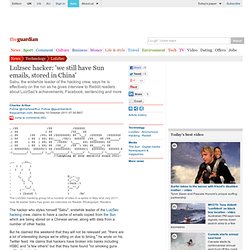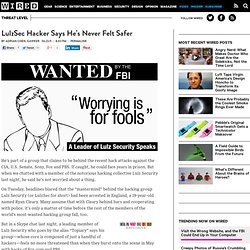 He's part of a group that claims to be behind the recent hack attacks against the CIA, U.S. Senate, Sony, Fox and PBS. If caught, he could face years in prison.
LulzSec Hacker Says He's Never Felt Safer | Threat Level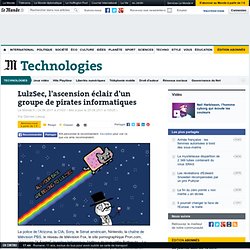 LulzSec, l'ascension éclair d'un groupe de pirates informatiques
Le Monde.fr | • Mis à jour le | Par Damien Leloup
Le groupe de pirates informatiques LulzSec a annoncé samedi soir la fin de ses activités, en revendiquant une campagne de 50 jours ayant mis au grand jour la vulnérabilité des systèmes de plusieurs organismes gouvernementaux et privés, y compris de la CIA et de la police britannique. >Lire LulzSec, l'ascension éclair d'un groupe de pirates informatiques
Les pirates informatiques de LulzSec annoncent leur démantèlement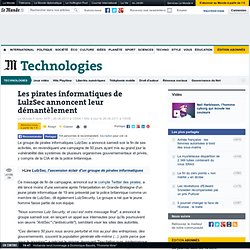 Overview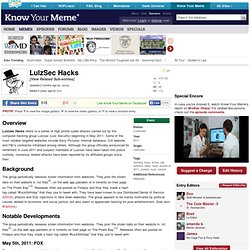 LulzSec Hacks
(1) Is it legal to download classified documents released by WikiLeaks or LulzSec
Lulz Security® releases
Teaming up with Anonymous
Lulzsec Vs Arizona Police
Looking back at the Rampage
Arrest of some Lulzec Hackers ?
Après avoir annoncé, samedi 25 juin, sa dissolution après "50 jours de 'lulz' [amusement]", le groupe de pirates informatiques LulzSec n'a pas pour autant entièrement disparu.
La mutation du groupe de pirates LulzSec après sa dissolution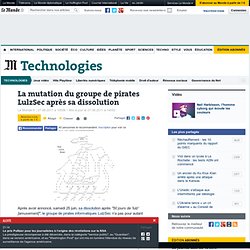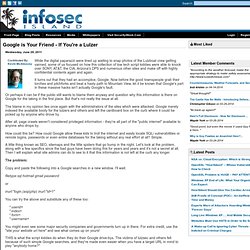 While the digital paparazzi were lined up waiting to snap photos of the Lulzboat crew getting vanned, some of us focused on how this collection of low tech script kiddies were able to knock over SONY, AT&T, the CIA, Arizona's DPS and numerous other sites and make off with highly confidential contents again and again.
Google is Your Friend - If You're a Lulzer