Where to...in London
Aerial photography: Tim Motion www.timmotion.com One of the best things about London is its abundance of open spaces. What's more, spending the day exploring the city's majestic parks is absolutely free.
London's major parks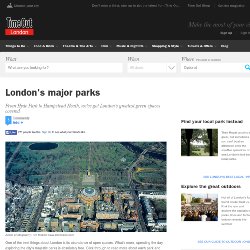 Share photos and videos on Twitter
Central top 10 budget eats
Daddy Donkey, Holborn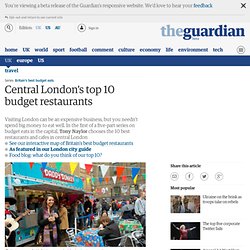 West - top 10 budget eats
Hereford Road Restaurant, Notting Hill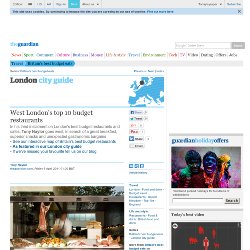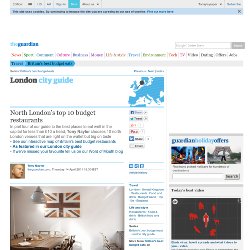 North London's top 10 budget eats
Antepliler, Harringay The main road that runs through Harringay, Green Lanes, is home to several great Turkish restaurants. Three in particular are regularly namechecked by local authorities on such matters: Yayla (429 Green Lanes), Hala (29 Green Lanes) and this gem.
Best burgers in London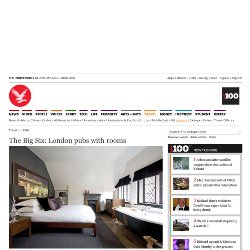 The Big Six: London pubs with rooms - Hotels, Travel
The Fox & Anchor, Smithfield The latest venture of the Hotel du Vin and Malmaison group is this Victorian pub, next to Smithfield meat market. At the pewter-topped bar, real ales are served on tap, while hearty food (pies, steak, fish and chips) can be enjoyed amid the wood panelling and brass of the pub's main room. The bedrooms are more contemporary, with velvet soft furnishings, smart baths and striking photography of the London landmarks after which each of them is named. The Fox & Anchor, 115 Charterhouse Street, EC1M 6AA (020-7250 1300; foxandanchor.com). Doubles start at £125, room only.
Thursday 17th March is St Patrick's Day – the annual celebration of the patron saint of Ireland and a great excuse for the rest of the world to down pints of Guinness and bowls of Irish stew. London's official St Patrick's Day Parade and Festival will take place this Sunday (March 13th), with colourful floats and marching bands proceeding from Green Park to Trafalgar Square from 12 noon. The square will host the festival programme of live Irish dance and music – a great family day out, and it's free! Throughout the week and on the 17th itself, lots of London restaurants and bars will be celebrating with Irish-themed menus, drinks, offers and events.
Celebrate St Patrick's Day In London