Doodle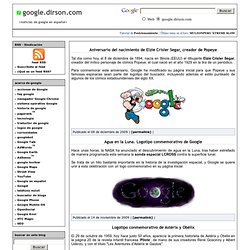 Logos-Logotipos de Google - google.dirson.com
Aniversario del nacimiento de Elzie Crisler Segar, creador de Popeye
Les logos Google
Fuck Yeah Illustrative Art! • 2012 Olympic Google logo illustrations by Sophie...
Koogel.fr : le moteur de recherche alsacien !
Burning Man Festival
Doodles are the fun, surprising, and sometimes spontaneous changes that are made to the Google logo to celebrate holidays, anniversaries, and the lives of famous artists, pioneers, and scientists.
À propos des doodles Google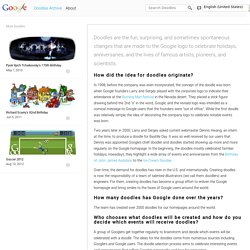 Doodles
Les Doodles de Google ont un nouveau site et leur boutique en ligne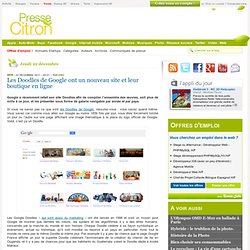 Jeudi 22 décembre
Google Doodles on Demand: Home: Zazzle.com Store
creator Jim Henson is the latest person to be celebrated with one of Google's Doodles . Henson's birthday isn't actually until tomorrow, September 24th, but Google jumped the gun with this one, probably hoping to roll out their interactive Doodle before it was too late on the West Coast.
Google Doodle celebrates Jim Henson's 75th birthday – Tech Products & Geek News