Logiciels Libres
Mes chers lecteurs, bien que majorité d'entre vous utilise un système d'exploitation GNU/Linux ou *BSD, combien d'entre vous peuvent prétendre avoir un ordinateur entièrement libre et donc avoir entièrement le contrôle ? Comme le dit si bien le site Prism-break pour éviter de participer à un programme de surveillance à votre insu vous devez avoir un accès total au code/matériel. Au menu de cet article nous allons voir comment libérer profondément un ordinateur en remplaçant un BIOS propriétaire (un UEFI dans cet exemple) par le logiciel libre d'amorçage coreboot. Coreboot effectue qu'un tout petit peu d'initialisation du matériel, puis exécute une logique d'amorçage supplémentaire, appelée charge utile (payload).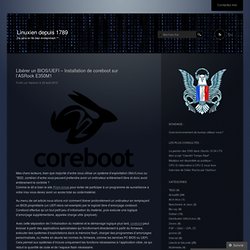 Libérer un BIOS/UEFI – Installation de coreboot sur l'ASRock E350M1 | HacKurx
Wlan Repeater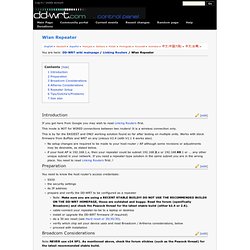 From DD-WRT Wiki You are here: DD-WRT wiki mainpage / Linking Routers / Wlan Repeater [edit] Introduction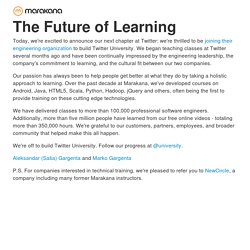 Today, we're excited to announce our next chapter at Twitter: we're thrilled to be joining their engineering organization to build Twitter University. We began teaching classes at Twitter several months ago and have been continually impressed by the engineering leadership, the company's commitment to learning, and the cultural fit between our two companies. Our passion has always been to help people get better at what they do by taking a holistic approach to learning.
Open Source Training
No organisation found for this search text Enter the name of the organisation you are affiliated with... Federation Education - Recherche AMUE - Agence de Mutualisation des Universités et Etablissements
SourceSup: STUdS: Liste de fichiers du projet
Ressources éducatives libres