Local SEO
8 Tips to Tailor Your Blog Content for Local Search
Local Discovery in the Multiplatform Era
Best Local SEO and Local-Search-Related Articles of 2012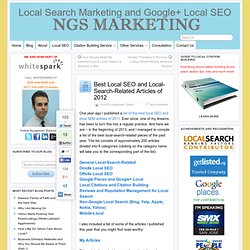 One year ago I published a list of the best local SEO and local SEM articles of 2011 .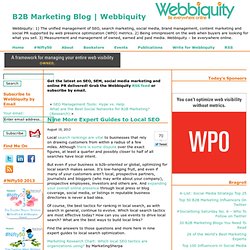 Nine More Expert Guides to Local SEO
August 19, 2013 Local search rankings are vital to businesses that rely on drawing customers from within a radius of a few miles. Although there is some dispute over the exact figures, at least a quarter and possibly closer to half of all searches have local intent.
Webinar: The SMB Guide to Choosing a Business Listing Partner
There is no better way to ensure happy customers than by delivering them accurate information about your business. Who best to help you distribute and regularly update your data?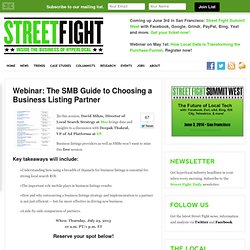 When local businesses look to beef up their SEO game, they're often looking for some clever technical trick. But, one of the simplest and most elegant local SEO tactics is to optimize the site's logo. Since many businesses are unaware of it, employing it will amount to a "stealth" tactic, giving an advantage over competitors.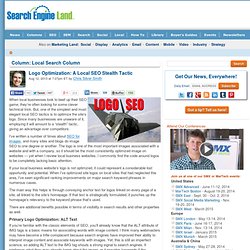 Logo Optimization: A Local SEO Stealth Tactic
local merchants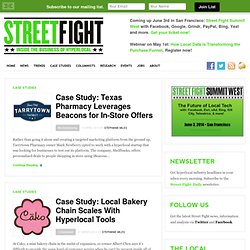 As the marketing director for The Lure Group, Kelly Bruce isn't afraid to try new digital platforms on for size. Over the years, she's worked with dozens of hyperlocal vendors, including Foursquare, Yelp, Gilt City, Grouper, Scoutmob, and HowAboutWe. "We're doing all these different experience packages to bring in a new audience who might not be familiar with the venues," said Bruce.
After Google Panda, Standout Content is Essential
Do you think your site has been hit by Panda? While Google has now rolled the Panda algorithm into the main algorithm , many publishers have never recovered from the many Panda updates that took place before this happened.
Post Penguin 2.0 Local SEO Strategies for Small Business
It is now official that Google has launched Penguin 2.0 on May 22 . Penguin 2.0 is a much "deeper" algorithmic update with increased focus on flushing out sites that were benefited from link spam. It also promises that more sites will be positively impacted by this than by its predecessor, which was launched in 2012.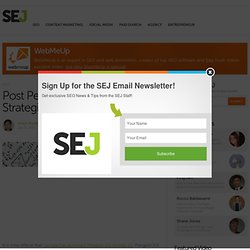 Fake reviews are the plague of Google Places.
8 Ways to Recognize Fake Google Reviews | Local Search Marketing by NGS Marketing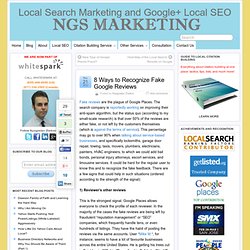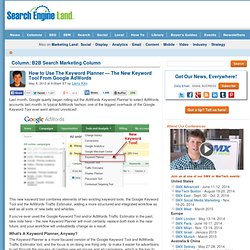 Last month, Google quietly began rolling out the AdWords Keyword Planner to select AdWords accounts last month. In typical AdWords fashion, one of the biggest overhauls of the Google Keyword Tool ever went almost unnoticed! This new keyword tool combines elements of two existing keyword tools, the Google Keyword Tool and the AdWords Traffic Estimator, adding a more structured and integrated workflow as well as all sorts of new bells and whistles.
How to Use The Keyword Planner -- The New Keyword Tool From Google AdWords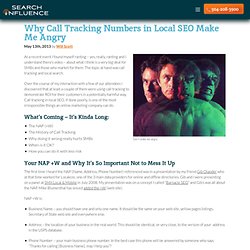 Don't make me angry. At a recent event I found myself ranting – yes, really, ranting and I understand there's video – about what I think is a very big deal for SMBs and those who market for them.
Why Call Tracking Numbers in Local SEO Make Me Angry
Conversational Marketing Benefits Local SEO
I began working for a particular type of traditional business industry recently, and I noticed that a great many of the small businesses operating within it were still proceeding as though it were pre-Internet days. They did promotions as though they were a one-way transmission instead of a dialogue. Unfortunately, that's not the only industry where this mindset persists.
Hyperlocal Social News On Patch
Over the past few years, as print advertising sales have plummeted alongside circulation numbers, local newspapers have faced a somewhat treacherous path to survival.
How To Create Your Local SEO Roadmap Through Research, Benchmarking & Tracking
During the regular online training sessions which I deliver to our customers, I inevitably get asked the same question. Actually this question comes in a few guises.
New LocalBusiness types – Schema.org news
Date of update: unknown, but before January 23rd. The LocalBusiness schema has gotten more specific subtypes, some of which themselves have more specific subtypes too, making the total quite a long list.
Relocation, Relocation, Relocation - A "New" Local Ranking Tactic?
Laying the Groundwork for a Local SEO Campaign
Google's Local Offerings Have Gotten Too Complicated
The Local Business Reviews Ecosystem
A Guide To Geocoding Images For Local SEO
The Definitive Guide to Local SEO
The Complete Guide to Link Building with Local Events
Site audit: How can a local limousine service get found in dozens of cities? How can it stand out in the crowd?
Local Search Ranking Factors | Local SEO Best Practices for Ranking in Google +Local
Can Local Businesses Jump On The Pinterest Train?
Harness The Power Of Twitter For Local Marketing
Big List of Local SEO's To Follow On Google+ Some Thoughts - Nifty Marketing | Nifty Marketing
How To Use Pinterest For Local SEO
Linkbait Ideas For Small Business Owners link-baiting – Search Engine People Blog
5 "Local" Search Engines You Should Be Targeting But Aren't
Are Yellow Pages Toast? Four Years Later We Review Ad Value
Understand and Rock the Google Venice Update
Local Ranking Factors - Google Places Optimization
Latest Google Search Revamp Brings Opportunities For Local Businesses
Interview with Local Marketing Experts Jake Puhl & Adam Zilko
Google: 62 Percent Of V-Day Restaurant Searches Were Mobile
Spice Up Local SEO with Pinterest – Backlinks, Citations and More - Google Places Optimization and Local SEO Blog
Get oodles of reviews with this FREE review tool
Local Search Commandments | LSO Prophets | Local Search Optimization | MilkMen blog
How to Get More Customers with Local Search Marketing: 10 Optimization Tips by Vertical Measures
Local Links For Local People -
How Siri is Changing Local Search
Technolog - Search engines beat social media for local business info: study
Bruce Clay on Local Search in 2012
Kathy Long on Listorious
Everything You Need to Know to Dominate Local Search
9 Ways To Depersonalize Your Search Results
Part 4: Where customers can find you online. Hint: Google Places.
Part 1: How are people looking for local businesses? Will yours get found?
New Place Search Shows Google's Commitment To Local
Download | Building Business Online: Your Digital Persuasion Portfolio | Mediative
Created by Camtasia Studio 7
Amenities – Local Search – Now Available for iPad on the App Store
How Users Search For Local Businesses + 5 Tips To Optimize Local Listings
12 Tips For Using Press Releases In Local Online Marketing
Local SEO Packages | seOverflow
Local SEO - The Ultimate List of Local SEO'ers
Local Search: Fish Where The Other Fishermen Aren't
Deploying Google Places SEO for Multiple Locations and One Website
How To Rank Nationally With Local Links
4 Simple Ways to Optimize Your Website for Local Search
Google Local Gallops Away From Feudalism, Offers Fixes
Local Content Definition: What Makes Material Of Local Signficance? | CopyLocal
Local SEO Checklist for New Sites - Whiteboard Friday
10 Local Search Tools I Simply Can't Live Without
SMX Advanced | Nifty Marketing
Conversion SEO: 4 Tips to Get Your Cash Register KachingingBruce Clay Blog
Social Goes Local: Tips for Local RankingsBruce Clay Blog
Optimizing Your Business Listing for Local Search Supremacy
Local SEO with Mike Ramsey ━ SEM Synergy ExtrasBruce Clay Blog
SMX West 2011: Local Search Tactics SessionBruce Clay Blog
Local Search, SEO Tactics & Tips
Local Search Tips and Bunnies – SEM Synergy ExtrasBruce Clay Blog
SMX East 2011: Hard Core Local SEO TacticsBruce Clay Blog