Lire des e-books
Free NOOK Reading App &trade, Download eReader app - BARNES & NOBLE - Barnes & Noble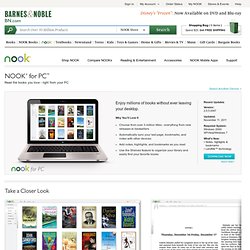 Why You'll Love It Choose from over 3 million titles - everything from new releases to bestsellersAutomatically sync your last page, bookmarks, and notes with other devicesAdd notes, highlights, and bookmarks as you readUse the Shelves feature to organize your library and easily find your favorite books Recent Updates Version:2.5.5.9347
Free NOOK app for PC, Download eReader app - Barnes & Noble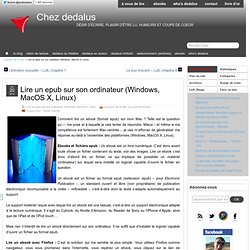 Comment lire un ebook (format epub) sur mon Mac ? Telle est la question qu'on me pose et à laquelle je vais tenter de répondre. Mieux – et même si ma compétence est fortement Mac-centrée -, je vais m'efforcer de généraliser ma réponse au-delà à l'ensemble des plateformes (Windows, MacOS X, Linux). Ebooks et fichiers epub : Un ebook est un livre numérique.
Lire un epub sur son ordinateur (Windows, MacOS X, Linux)
Digital Editions
Mobipocket Reader
Download Welcome to the easiest way to build, organize, read and annotate your entire eBook library. Get the Mobipocket eBook Reader on your Windows PC - it's free - and build up your library of eBooks, RSS eNews and eDocs using the #1 online ebookstore.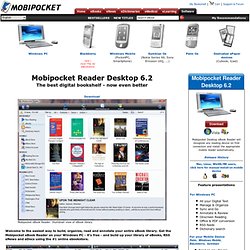 eReader.com
Supported Phones: Nokia 5800 XpressMusic, Nokia 5800 Navigation Edition, Nokia 5530 XpressMusic, Nokia 5230, Nokia N97, Nokia N97 mini, Nokia X6, Samsung i8910 Omnia HD, Sony Ericsson Satio. more > Price: $0.00 Supported Phones: Nokia 6220, Nokia 6210, Nokia N79, Nokia N85, Samsung I7110, Samsung INNOV8, Samsung SGH-L870. more > Supported Phones: Nokia 5700, Nokia 6110, Nokia 6120, Nokia 6121, Nokia E51, Nokia E90, Nokia N76, Nokia N82, Nokia N95. more > Supported Phones: Nokia 3250, Nokia 5500, Nokia E50, Nokia E60, Nokia E61, Nokia E61i, Nokia E62, Nokia E65, Nokia E70, Nokia N71, Nokia N73, Nokia N75, Nokia N77, Nokia N80, Nokia N91, Nokia N92, Nokia N93, Nokia N93i. more >