Livres multimédia
Enseigner-lettres-2012.pdf (application/pdf Object) Livres multimédia. Tech Learning TL Advisor Blog and Ed Tech Ticker Blogs from TL Blog Staff – TechLearning.com. 0 Comments June 1, 2011 By: Guest Blogger Jun 1 Written by: 6/1/2011 4:34 AM ShareThis.
10 Tools for Digital Storytelling in Class. Digital storytelling is simply using computer-based tools to tell stories.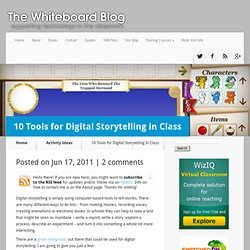 There are many different ways to do this – from making movies, recording voices, creating animations or electronic books. In schools they can help to take a task that might be seen as mundane – write a report, write a story, explain a process, describe an experiment – and turn it into something a whole lot more interesting. CodeBox.
KeeBoo. Kerpoof Studio. Calaméo. Little Bird Tales. Kidistb. Photorécit 3. Madmagz. Didapage 1. Issuu.
---