Nook
Un nouveau Nook à 149$ dès mercredi? (MAJ : confirmé !) Engadget apporte de nouvelles informations sur les différentes rumeurs autour d'une nouvelle gamme de readers chez Barnes&Noble.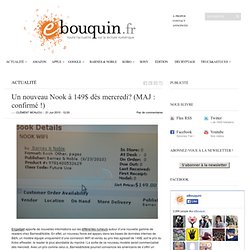 En effet, un nouveau Nook est apparu dans les bases de données internes de B&N, un modèle équipé uniquement d'une connexion WiFi et vendu au prix très agressif de 149$, soit le prix du Kobo eReader, le reader le plus abordable du marché ! La sortie de ce nouveau modèle serait commercialisé dès mercredi. Avec un prix comme celui-ci, Barnes&Noble pourrait convaincre les américains de s'offrir un reader avant de partir en vacances, et continuer à gagner des parts de marché. Le nouveau Nook en couleur. , the world's largest bookseller, today announced the launch of NOOKcolor by Barnes & Noble, the ultimate reading experience – the first full-color touch Reader's Tablet that delivers digital books, magazines, newspapers and children's books in immersive, gorgeous color, and all in one beautiful, thin and highly portable device.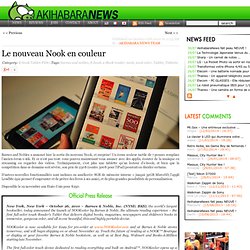 NOOKcolor is now available for $249 for pre-order at www.NOOKcolor.com and at Barnes & Noble stores tomorrow, and will begin shipping on or about November 19. Touch the future of reading at a NOOK™ Boutique or display at your favorite Barnes & Noble bookstore, as well as at Best Buy, Walmart and Books-A-Million starting late November. The first full-color touch device dedicated to reading everything and built on Android™, NOOKcolor opens up a whole new world of digital reading materials of all kinds, in addition to providing access to the largest bookstore with an unprecedented selection of over two million digital titles a single search away.
The E-Reader Price War Heats Up: Kindle Now $189. Amazon just dropped the price of its Kindle e-reader to $189.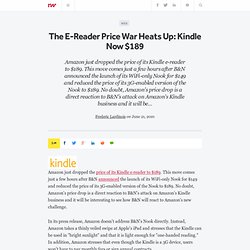 This move comes just a few hours after B&N announced the launch of its WiFi-only Nook for $149 and reduced the price of its 3G-enabled version of the Nook to $189. No doubt, Amazon's price drop is a direct reaction to B&N's attack on Amazon's Kindle business and it will be interesting to see how B&N will react to Amazon's new challenge. In its press release, Amazon doesn't address B&N's Nook directly. Instead, Amazon takes a thinly veiled swipe at Apple's iPad and stresses that the Kindle can be used in "bright sunlight" and that it is light enough for "one-handed reading. " In addition, Amazon stresses that even though the Kindle is a 3G device, users won't have to pay monthly fees or sign annual contracts.
Un premier test du Nook WiFi. David Carnoy de Cnet a pu tester l'un des premiers exemplaires du Nook WiFi de Barnes&Noble.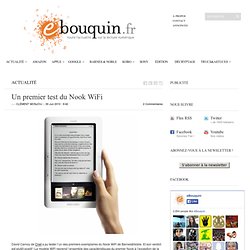 Et son verdict est plutôt positif ! Le modèle WiFi reprend l'ensemble des caractéristiques du premier Nook à l'exception de la connexion 3G. Compatible avec le standard ePub et la boutique de Barnes&Noble, le Nook WiFi permet d'aller récupérer du contenu chez un grand nombre de distributeurs. Cependant, il semble que les performances du reader soient encore en retrait par rapport au Kindle, et qu'une nouvelle mise à jour firmware ne soit pas de trop pour améliorer la vitesse d'exécution du produit.
---