Libraries
World's Largest indoor Photo: Strahov Philosophical Library, Prague - 40 Gigapixel 360º Panorama. About this photo This image was created from 3,000 individual photos stitched together into a single image that is 280,000 x 140,000 pixels.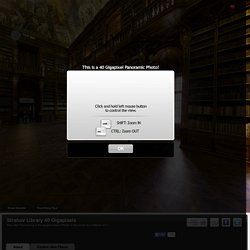 That's around 40 gigapixels, or 40,000 megapixels. If you printed this photo it would be 23 meters (or 78 feet) long! 8 of the World's Best Libraries (and 1 Horrible One) One of Spot Cool Stuff's most popular travel posts has been our review of World's Best Bookstores.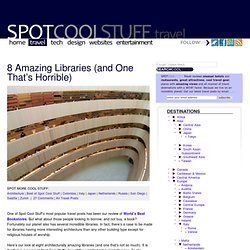 But what about those people looking to borrow, and not buy, a book? Fortunately our planet also has several incredible libraries. In fact, there's a case to be made for libraries having more interesting architecture than any other building type except for religious houses of worship. 15-render-FG.jpg (1000×750) The Great Geek Manual » The World's Most Beautiful Libraries.
I make no secret of the fact that I'm a hardcore bibliophile, but we're a common enough lot these day.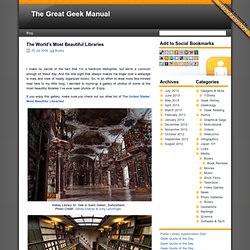 And the one sight that always makes me linger over a webpage is rows and rows of neatly organized books. So, in an effort to draw more like-minded read here to my little blog, I decided to round-up a gallery of photos of some of the most beautiful libraries I've ever seen photos of. Enjoy. If you enjoy this gallery, make sure you check out our other list of The United States' Most Beautiful Libraries! Bücherkubus - Bild von Edgar2 aus Architektur - Fotografie (18872702. Symmetrie war noch nie ein Indiz für ein gelungenes Bild.
Symmetrie bedeutet Redundanz und Redundanz erzeugt Langeweile. Geringe Detailtiefe kann man nicht durch Schärfen ausgleichen, sondern, in der Digitalfotografie durch größere Sensoren, in der Analogfotografie durch eine größere Filmfläche und natürlich durch bessere Objektive.
---