Authors
Black Pullet. This design for an amulet comes from the Black Pullet grimoire.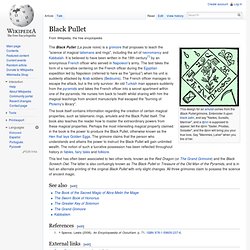 Embroider it upon blacksatin, and say "Nades, Suradis, Maniner", and a djinn is supposed to appear; tell the djinn "Sader, Prostas, Solaster", and the djinn will bring you your true love. Say "Mammes, Laher" when you tire of her. Necronomicon. A fan-created prop representing the Necronomicon (2004) The Necronomicon is a fictional grimoire appearing in the stories by horror writer H.
P. Lovecraft and his followers. It was first mentioned in Lovecraft's 1924 short story "The Hound",[1] written in 1922, though its purported author, the "Mad Arab" Abdul Alhazred, had been quoted a year earlier in Lovecraft's "The Nameless City".[2] Among other things, the work contains an account of the Old Ones, their history, and the means for summoning them. Other authors such as August Derleth and Clark Ashton Smith also cited it in their works; Lovecraft approved, believing such common allusions built up "a background of evil verisimilitude.
" The Cats of Ulthar. "The Cats of Ulthar" is a short story written by American fantasy author H.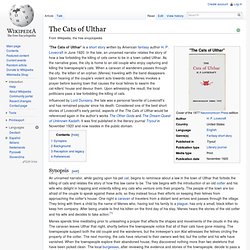 P. Lovecraft in June 1920. In the tale, an unnamed narrator relates the story of how a law forbidding the killing of cats came to be in a town called Ulthar. As the narrative goes, the city is home to an old couple who enjoy capturing and killing the townspeople's cats. When a caravan of wanderers passes through the city, the kitten of an orphan (Menes) traveling with the band disappears. Cosmicism. Cosmicism is the literary philosophy developed and used by the American writer H.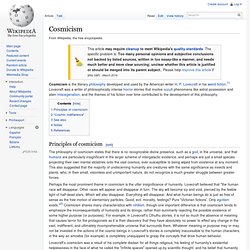 P. Lovecraft in his weird fiction.[1] Lovecraft was a writer of philosophically intense horror stories that involve occult phenomena like astral possession and alien miscegenation, and the themes of his fiction over time contributed to the development of this philosophy. Principles of cosmicism[edit] The philosophy of cosmicism states that there is no recognizable divine presence, such as a god, in the universe, and that humans are particularly insignificant in the larger scheme of intergalactic existence, and perhaps are just a small species projecting their own mental idolatries onto the vast cosmos, ever susceptible to being wiped from existence at any moment.
H. P. Lovecraft. Howard Phillips "H.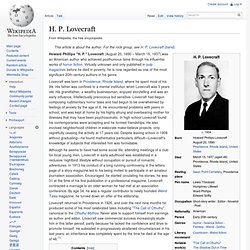 P. " Lovecraft (August 20, 1890 – March 15, 1937) was an American author who achieved posthumous fame through his influential works of horror fiction. Virtually unknown and only published in pulp magazines before he died in poverty, he is now regarded as one of the most significant 20th-century authors in his genre. Lovecraft was born in Providence, Rhode Island, where he spent most of his life. His father was confined to a mental institution when Lovecraft was 3 years old. The Age of Reason.
Title page from the first English edition of Part I Most of Paine's arguments had long been available to the educated elite, but by presenting them in an engaging and irreverent style, he made deism appealing and accessible to a mass audience.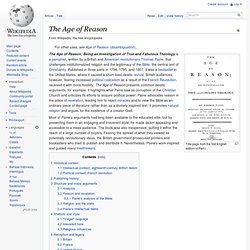 The book was also inexpensive, putting it within the reach of a large number of buyers. T. S. Eliot. Thomas Stearns Eliot OM (26 September 1888 – 4 January 1965) was an essayist, publisher, playwright, literary and social critic and "one of the twentieth century's major poets.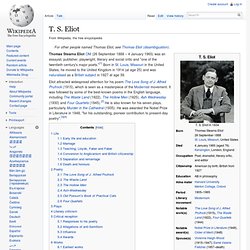 "[1] Born in St. Little Gidding (poem) Little Gidding is the fourth and final poem of T.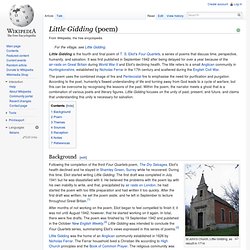 S. Eliot's Four Quartets, a series of poems that discuss time, perspective, humanity, and salvation. It was first published in September 1942 after being delayed for over a year because of the air-raids on Great Britain during World War II and Eliot's declining health. The title refers to a small Anglican community in Huntingdonshire, established by Nicholas Ferrar in the 17th century and scattered during the English Civil War. Arthur Conan Doyle. Sir Arthur Ignatius Conan Doyle KStJ, DL (22 May 1859 – 7 July 1930) was a Scottish physician and writer who is most noted for his fictional stories about the detective Sherlock Holmes, which are generally considered milestones in the field of crime fiction.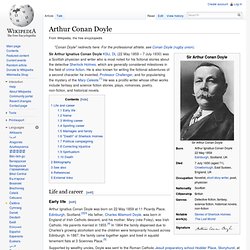 He is also known for writing the fictional adventures of a second character he invented, Professor Challenger, and for popularising the mystery of the Mary Celeste.[1] He was a prolific writer whose other works include fantasy and science fiction stories, plays, romances, poetry, non-fiction, and historical novels. Life and career[edit]
---