Listen Pink Floyd
CBS 1970 - Titanic - Mary-Jane
Soft Machine - 1967 - I Should've Known
Pink Floyd's Crazy Diamond
101.ru: Pink Floyd en ligne sur radio.fr - La radio sur internet avec plus de 3000 stations.
Histoire du groupe 1965-1968 : l'attraction psychédélique Après plusieurs formations étudiantes aux membres (Juliette Gale, Bob Klose, Clive Metcalf, Keith Noble) et aux noms divers (T-Set, The Abdads, The Architectural Abdads, Sigma 6), le groupe se constitue autour de Syd Barrett (chant et guitare), Richard Wright (claviers et chant), Roger Waters (basse et chant) et Nick Mason (batterie et percussions). Un des noms originaux du groupe, T-Set, est abandonné après que le groupe se soit trouvé à l'affiche avec un autre groupe du même nom. Barrett propose sur le coup une alternative, The Pink Floyd Sound. Le nom est un hommage à deux musiciens de blues, Pink Anderson et Floyd Council.
Pink Floyd - Last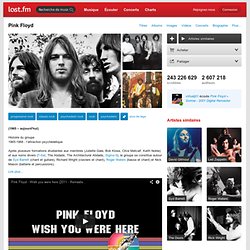 Pink Floyd - Deezer
Fulgurant détonateur du rock progressif à l'aube des années 1970, Pink Floyd enregistre une série de classiques parfaitement indispensables : The Piper At the Gates of Dawn (1967), Umagumma (1969), Meddle (1971), The Dark Side of the Moon (1973), Wish You Were Here (1975) et The Wall (1979). Marqué par la folie de son leader originel Syd Barrett, puis par la mégalomanie paranoïaque de Roger Waters ( The Final Cut , 1983), Pink Floyd se normalise au tournant des années 1980 pour devenir une entreprise de spectacle spécialisée dans la nostalgie haut de gamme. Le monstre sacré réanimé par David Gilmour entre A Momentary Lapse of Reason (1987) et The Division Bell (1994), suivis de tournées monumentales, est depuis resté en sommeil malgré une reformation éclair en 2005. La légende a laissé place aux rétrospectives : Shine On en 1992 puis l'opération Discovery et ses multiples coffrets en 2011. Roger Waters fait la connaissance de Nicholas Mason et de Richard Wright en 1962 à Londres.