X-DisplayManager
The Official FVWM Home Page
Comparison of X window managers
Comparison of X Window System desktop environments
A desktop environment is a collection of software designed to give functionality and a certain look and feel to an operating system .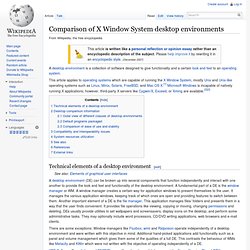 xorg/proto/randrproto - X Resize and Rotate protocol headers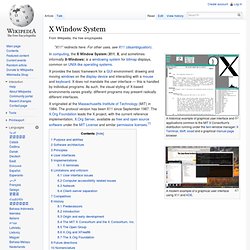 A historical example of graphical user interface and applications common to the MIT X Consortium's distribution running under the twm window manager: X Terminal , Xbiff , xload and a graphical manual page browser The X Window System (commonly known as X11 , based on its current major version being 11, or shortened to simply X , and sometimes informally X-Windows ) is a computer software system and network protocol that provides a basis for graphical user interfaces (GUIs) and rich input device capability for networked computers . It creates a hardware abstraction layer where software is written to use a generalized set of commands , allowing for device independence and reuse of programs on any computer that implements X.
X Window System
XFree86® Home to the X Window System
X.org - Wiki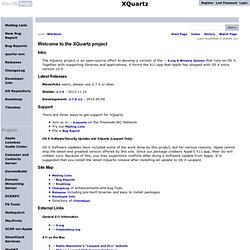 XQuartz
Intro ¶
X Window System
Window Managers for X: Metacity
License: GPL Activity Rating: High Metacity is a lightweight window manager written by Havoc Pennington from Red Hat. The first version was 2.3, which was released in 2001.