Link Building
Google Link Exchange Search
Link Requests via Email - A Primer With Tips by Eric Ward | updated 5/2011 | More by Eric Ward ShareThis H ave you ever received an email asking for a link that looked something like this one below? Date: Thursday, November 9, 20xx To: webmaster@yoursite From: Someone you've never heard of Subject: I was looking at your site
Link Request Email Tips from Eric Ward
Email linkbuilding templates - SEO Best Practice
From SEO Best Practice Had a few requests for email linkbuilding templates and link requests. Ive listed some below - dont just follow them, make sure you know why each part is included. No word is used in these emails by accident - read the posts in the references section for best results Eric Ward 's linkbuilding template To: (Address withheld as a courtesy)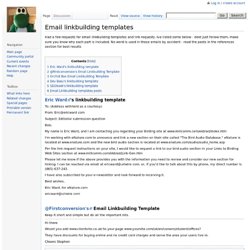 SEOmoz Linkbuilding Advice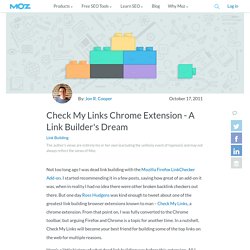 Not too long ago I was dead link building with the Mozilla Firefox LinkChecker Add-on . I started recommending it in a few posts, saying how great of an add-on it was, when in reality I had no idea there were other broken backlink checkers out there. But one day Ross Hudgens was kind enough to tweet about one of the greatest link building browser extensions known to man – Check My Links , a chrome extension.
Check My Links Chrome Extension - A Link Builder's Dream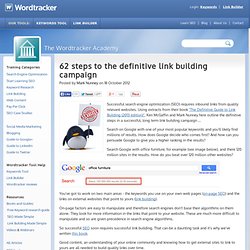 62 steps to the definitive link building campaign
Successful search engine optimization (SEO) requires inbound links from quality relevant websites. Using extracts from their book "The Definitive Guide to Link Building (2013 edition)" , Ken McGaffin and Mark Nunney here outline the definitive steps in a successful, long term link building campaign ... Search on Google with one of your most popular keywords and you'll likely find millions of results. How does Google decide who comes first? And how can you persuade Google to give you a higher ranking in the results? Search Google with office furniture , for example (see image below), and there 120 million sites in the results.
How to Set Up a Link Building Campaign for a Web Site or a Blog | Ask Kalena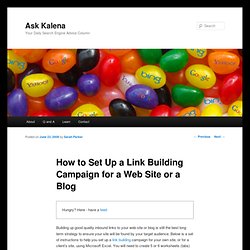 Hungry? Here - have a feed Building up good quality inbound links to your web site or blog is still the best long term strategy to ensure your site will be found by your target audience.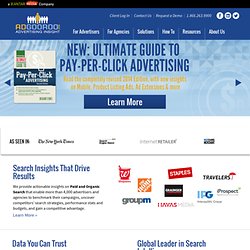 DIY and save money Your average outsourced link building service start at $2500 per month and hiring a reputable firm – if you can even find one – will cost you even more (typically $5,000 and up). Why so expensive? One word: waste . Link builders who are solely focused on chasing search rankings are forced to pursue hundreds (or even thousands) of links to find even one that can make a difference. Their tactics result in links which range from almost worthless (such as article syndication) to those that are egregious violations of the search engine quality guidelines (such as splogs, throwaway domains, and paid links).
Backlinks | Get Quality Backlinks with Link Insight