What?
SEWARD, Alaska, Aug. 12, 2008 Let's face it: The news these days can be a little depressing. People can't drive because gas is too expensive, the price of food is skyrocketing, families are losing their homes, the stock market is tanking and the Arctic ice caps might be melting, plunging the planet into serious trouble.
Ready for Disaster? 'Preparedness Movement' Members Say They Are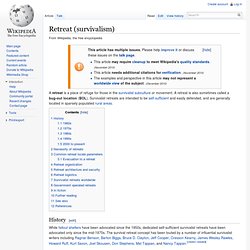 A retreat is a place of refuge for those in the survivalist subculture or movement. Retreats are also sometimes called bug-out locations ( BOLs ). Survivalist retreats are intended to be self-sufficient, easily defended, and are generally located in lightly populated rural areas.
Retreat (survivalism)
survivalist movement
Suburban Survivalist movement?
The current economic crisis has spawned a whole new breed of survivalists. Rather than holing up in a bunker, living off the land and waiting for "the end of the world as we know it" these new survivalists are average Americans who see the chaos going on around them and who believe that they won't be able to depend on the government to take care of them. In a recent article , the Houston Chronicle reported on this new breed of survivalists.
Survivalists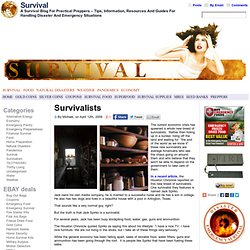 Survivalism is a movement of individuals or groups (called survivalists or preppers ) who are actively preparing for emergencies, including possible disruptions in social or political order, on scales from local to international. Survivalists often acquire emergency medical and self-defense training, stockpile food and water, prepare to become self-sufficient , and build structures (e.g., a survival retreat or an underground shelter ) that may help them survive a catastrophe . Anticipated disruptions may include: Clusters of natural disasters , patterns of apocalyptic planetary crises, or " Earth Changes " ( tornadoes , hurricanes , earthquakes , blizzards , solar storms , severe thunderstorms , floods , tsunamis ). Anthropogenic disasters ( chemical spills, release of radioactive materials, nuclear or conventional war , oppressive governments). The general collapse of society caused by the shortage or unavailability of resources such as electricity, fuel, food, or water.