Employment
USAJOBS - The Federal Government's Official Jobs Site. Find Jobs. Build a Better Career. Find Your Calling. | Monster.com. Jobs - The Largest Job Search, Employment & Careers Site.
Technicalwriting. Best Careers 2011: Technical Writer. Around the Water Cooler With C-Span's CEOs Co-CEOs Susan Swain and Rob Kennedy share tips for expanding your audience and staying relevant.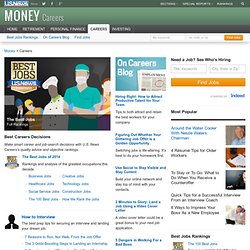 Around the Water Cooler With Whole Foods' CEO Walter Robb shoves the corporate ladder under the table, just like his Brussels sprouts. Around the Water Cooler With a General Motors Vice President Diana Tremblay shares tips for taking the driver's seat in your company and career. Technical Writing Jobs | Technical Writing Job. Technical writing. Technical writing is a form of technical communication used in a variety of technical and occupational fields, such as computer hardware and software, engineering, chemistry, aeronautics, robotics, finance, consumer electronics, and biotechnology.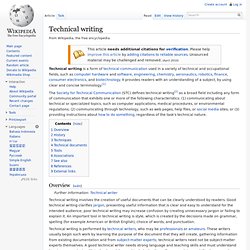 It provides readers with an understanding of a subject, by using clear and concise terminology.[1] The Society for Technical Communication (STC) defines technical writing[2] as a broad field including any form of communication that exhibits one or more of the following characteristics: (1) communicating about technical or specialized topics, such as computer applications, medical procedures, or environmental regulations; (2) communicating through technology, such as web pages, help files, or social media sites; or (3) providing instructions about how to do something, regardless of the task's technical nature. Overview[edit] Technical writing involves the creation of useful documents that can be clearly understood by readers. TechWhirl Magazine | Online Magazine for Technical Writers. World's Largest Professional Network.
---